This is my 500th post. It's not very exciting when I think that I've been blogging since 2000, earlier if you count our
Germany Journal
, but milestones deserve to be celebrated, yes?
Also, I recently won a giveaway!
Wasn't I just saying that I never win anything?
And now, twice in 3 months!
So: Diane at
From Blank Pages
launched this clever thing a while back.
Charming Travelers!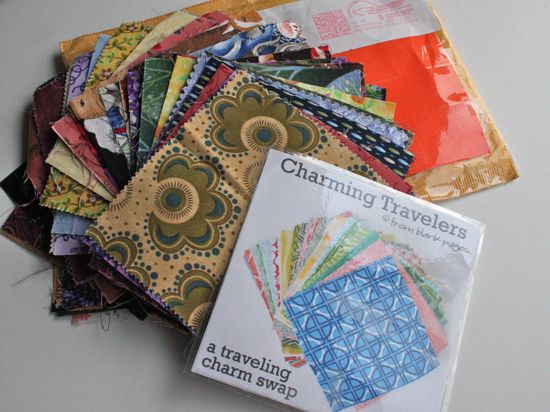 It's a charm pack (56 5x5 fabric squares) that she gave away on her site. The rules state that if you win the Travelers, you get to pick out whatever squares you like from the pack, add in new fabrics to replace those you took out, and then you give the updated collection away again. Diane's got a map going on her site tracking where the Travelers go, and I'm stop #10, winning the pack from
Skook's Playground
.
(If you're new here, hi there. I'm Christina. Mom to Caitlyn; quilter and seamstress; occasional web designer; gardener, food preserver, and baker of desserts; holder of artistic ambitions, with an oversize frivolous reading habit (which doesn't really show up in this space). Stick around and talk crafts or food or big picture thinking with me.)
Here's what I chose from the pack: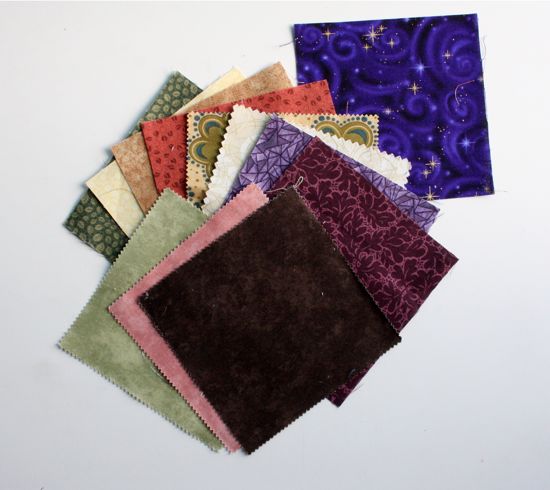 So, since the Travelers are now ready to move on, and since this is post number 500,
I'm hosting my very first giveaway.
The Rules, as written by
Diane
:
winners must be active bloggers
you must reside in the US
before sending the charm pack off to the next winner, there must be 56 - 5" x 5" squares of fabric inside - please no yucky fabrics
to help keep Diane's map updated, winners must fill out the quick and easy form to let her know where you are!
if the charm pack arrives full of unwanted charms, let Diane know and she'll clear it out and fill it back up with more beautiful fabrics!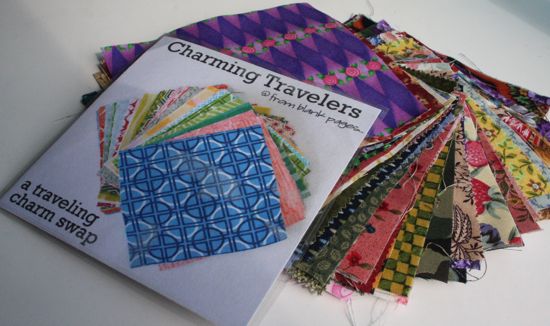 If you're interested in having the Charming Travelers maybe come visit you, please leave me a comment below. Be sure your comment profile includes your email address (or include it in your comment) so I can contact you. I'll ask
random.org
to pick a winner on
Wednesday, October 10th.
Good luck!