It's getting late on a Wednesday. The market run is done (more onions! apples! carrots!), Caitlyn's off to bed, the kitchen is cleaned up, and we've opened up a pint of cider for the evening.
Thanks to everyone who stopped by and left a comment on the
Charming Travelers giveaway
. And thanks for all your kind thoughts about my 500th post!
I've asked
Random.org
to select our winner.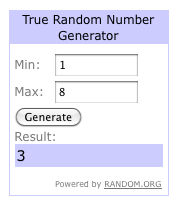 Congratulations to Commenter Number 3,
Charlotte
! I'm sending you an email shortly.
And after KCWC, I'll share what I made with the Travelers I chose from the pack!