Now that I've recovered (tee hee) from the Most Epic Quilt that was the result of me being "in charge" at Sew.Quilt.Give. in March 2013, I can move forward with the March 2014 quilt. I hope I've kept this one easier and smaller.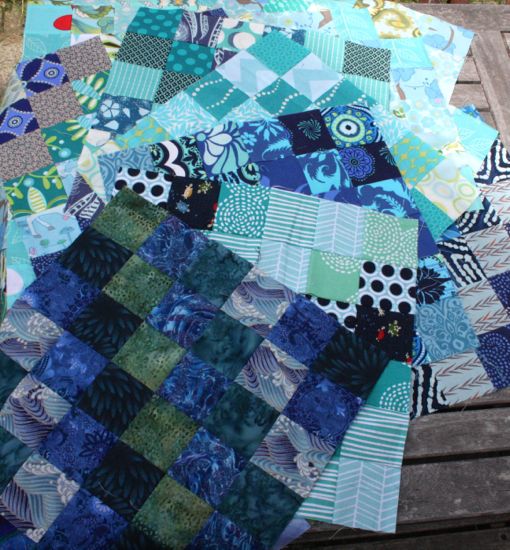 I missed out on the Scrappy Trip Along that whipped around the interwebs last year, so that's what I asked for. I requested ocean blues and greens, referencing the Pacific along the
Central California Coast
as a color guide. I'm planning a Barn Raising layout, just as soon as I clean up enough of the floor.
If you want to see some of our finished quilts, check out this
wonky cross quilt
(from
last November
) and the
Shattered
quilt (from
August
). The big "slab" quilt from
September
is
coming together
, too.
The request for May was for
Scrappy Sprout
blocks.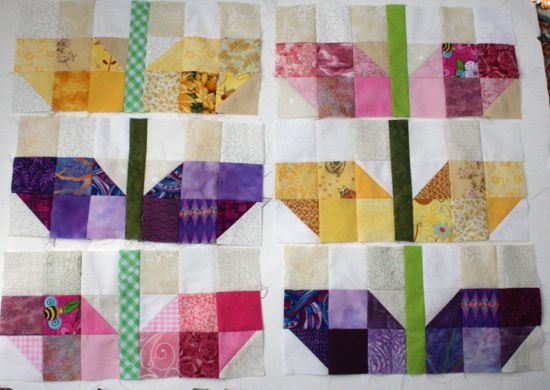 Nice and springy, don't you think? They are basically nine-patch blocks with a couple of artfully placed half-square triangles. Of course, I misread the tutorial photo and cut out squares enough for the sprout leaves to be nine-patches, with the neutral squares as an extra row (making the block 3x4). I made 3 extra blocks because wasn't that the best use for the extra tiny squares? I mean, they'd just get lost if I put them back in the fabric bins, right?