It's official: individual detailed reports of what I've been doing are completely beyond my capacity at the moment. So, here's the overview of what we did in May:
We joined some friends at
LUCO
's Chamber Music Cabaret. There was a piccolo trio, and Caitlyn got pulled from the audience to read raffle ticket winning numbers.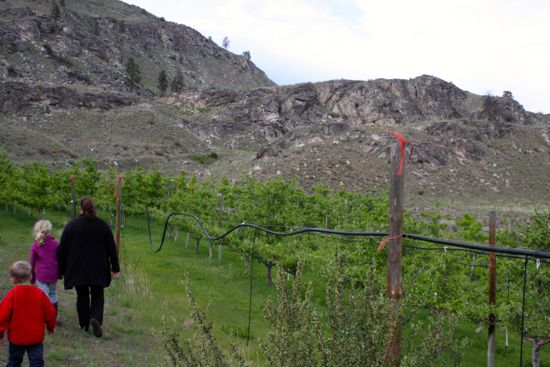 Caitlyn and I joined some of our homeschool friends for
another field trip to a farm
. This time we drove across the mountains to Little Wing Farm where we spent the day touring the orchards and generally traipsing around.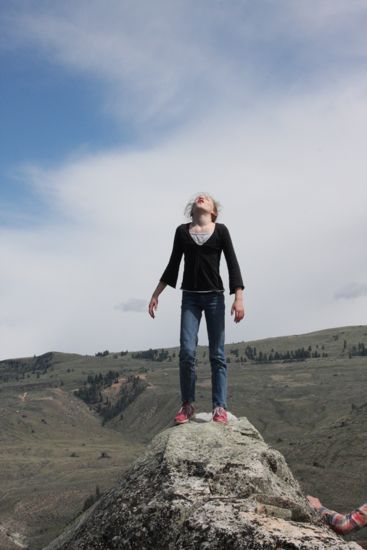 Caitlyn has been having a digression from her all-consuming cat interest to think about wolves. This means howling, which I generally don't allow in our urban settings (I worry about all the neighborhood dogs she'll set to barking). Out on the farm, she can howl all she likes, which she most definitely did.
Our farmers' market
opened. This is always a good thing. And our weather has been so glorious so early this year that we've started our picnic dinners already.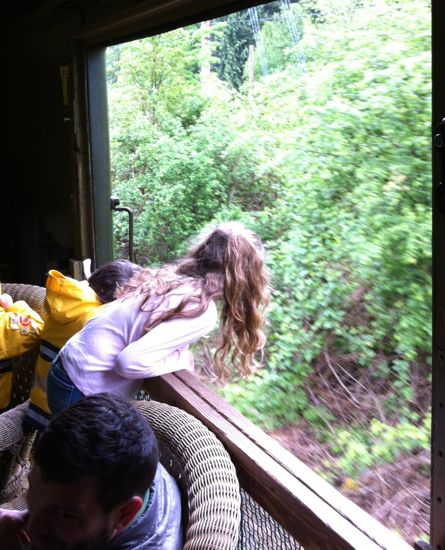 Caitlyn and I joined in another homeschool field trip to the Northwest Railway Museum. The program skewed a little young for Caitlyn but she enjoyed the train ride to
Snoqualmie Falls
.
I
quilted my disappearing nine patch quilt
.
Wasabi went to the vet for the usual annual check up. Trimming his claws was suggested, only to have Caitlyn declare, loudly, "I like being scratched with his claws. You can't trim them!"
We saw
Malificent
. Caitlyn loved it. She came home and made a Malificent figure with her Legos and started building a castle.
Rock Club had a raffle-auction hybrid event. Caitlyn came home with a jar of raw opal pieces. I now have a large and shiny geode.
We dyed and stuffed
12 dozen confetti eggs
for Solstice.
The homeschool Stewardship Squad had an event
in our local woods
. Caitlyn and I joined in the bucket brigade, moving wood chip mulch from the top of the hill down to the new plants. This is part of the
continuing project
to reclaim, restore and reimagine part of Seattle's urban forest, a part that's been neglected for far too long. We'll be at this for a while.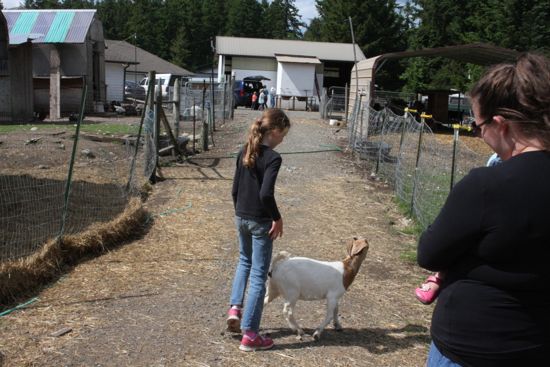 We had another farm field trip, this time to
Toboton Creek Farm
where we visited with goats (meat and dairy) and lots of free ranging birds. The kids all got to try milking and our hosts sent us home with eggs less than 24 hours old.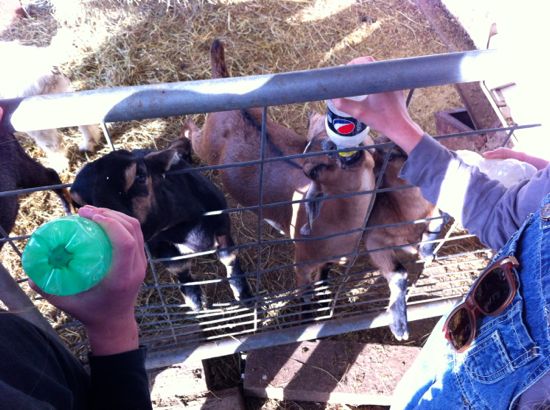 And we got to help bottle feed some of the babies! Awww...
I finally took pictures of some projects that have been done for a while: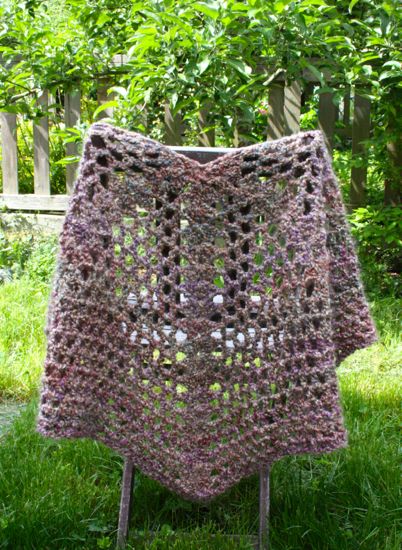 This
fan shawl
, which was quick and simple and is just the thing to throw over my shoulders when I'm working at the computer.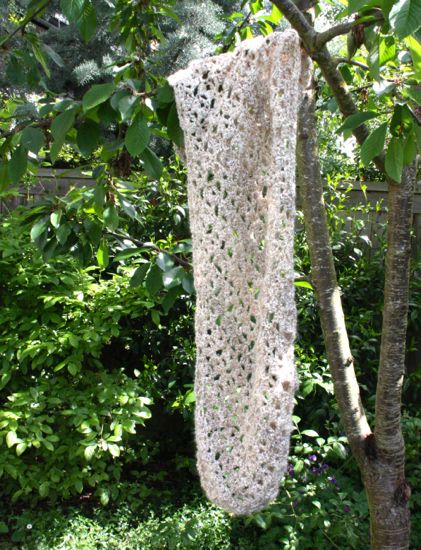 This shawl, which is a simplified variation on
this one
(I didn't do the tassels). Just another wear-it-around-the-house shawl. But both of these have used up my collection of Homespun yarn; I can start to think about some of the yummy yarns we have in the shop.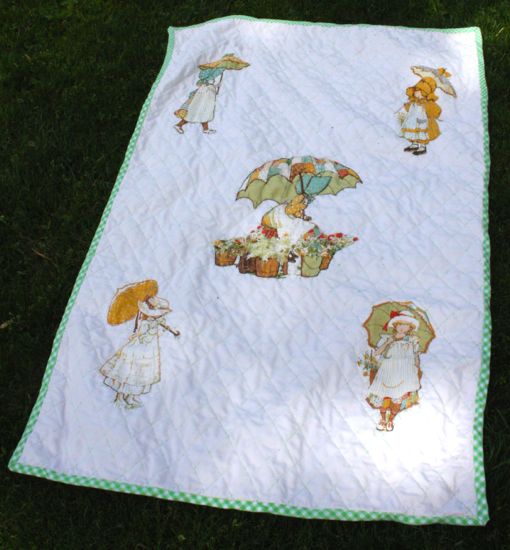 I think my grandfather made this quilt for me when I was small. It's binding had fallen apart and most of the hand quilting had broken loose. I requilted and rebound it, and it has returned to Caitlyn's room to be part of forts and other cosy constructions.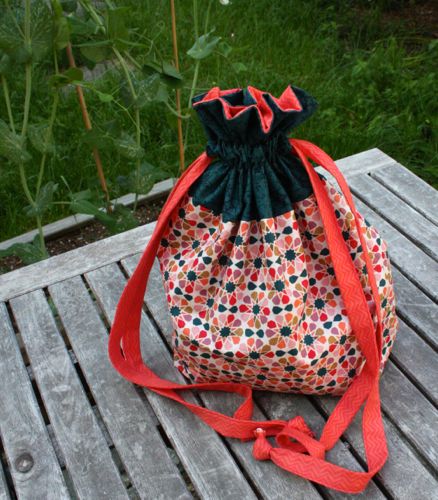 I made another lined drawstring bag. This one is a sample for
the shop
; I'll be teaching it as a class next month. I'm not at all sure this is a good idea.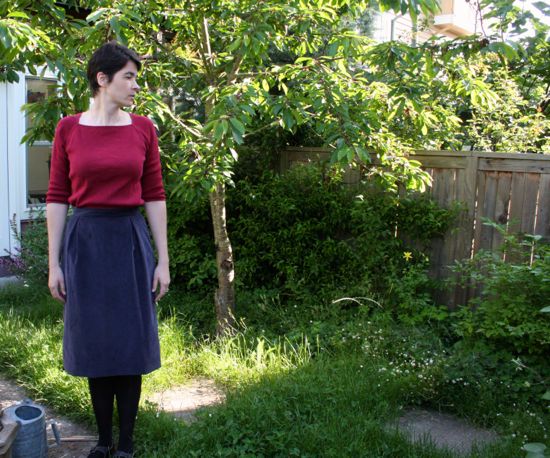 I finally finished sewing something for me. The skirt is Vogue 9850. I cut this out more than a year ago. Now that is finished, I'm not sure I like the pleats in the front, at least maybe not in this fabric. It's a little bulkier looking than I was hoping for (although maybe it's the photo, or the shirt I'm wearing?) Anyway, I think I may be ready to let this pattern go.
I'm giving myself permission to continue posting infrequently and irregularly. There may or may not be a wrap up for June, or any other month this summer. I'm trying to post more at
Instagram
because it's shorter/faster. Follow me there. And I'll post here again when I can. ::Waving::