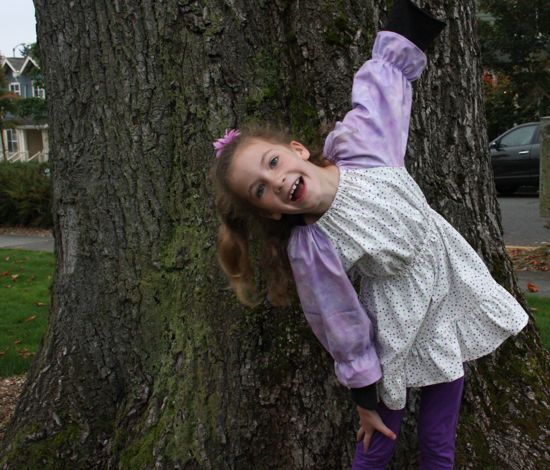 These photos were taken this morning, before the school bus came.
I don't know that I can remember ever being this excited about anything before, oh, say, noon.
Maybe if I had a new top and - surprise! - got to wear it unexpectedly? Possibly, if I was wearing said new top at a reasonable hour. School buses do not come at a reasonable hour.
Where was I?
So, this is my first KCWC finish for the week. It came out well enough and Caitlyn seems to love it, but I'm not super thrilled.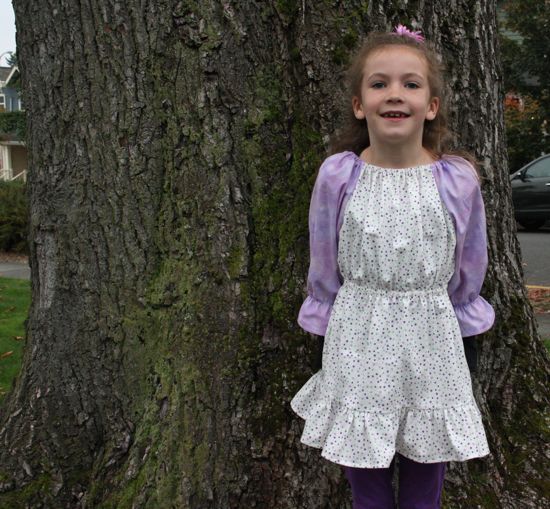 I don't think it's the pattern (
McCall's 6530
), exactly. No strange construction surprises.
Except that the gathering for the waist and the sleeves was supposed to be done as shirring, with elastic thread in the bobbin. And that turned out to be something I just couldn't get my sewing machine to do. The elastic wouldn't retract and gather up the fabric. I looked things up, I re(hand)wound the bobbin, I messed with the tension, I unpicked a lot of non-stretchy seams.
And finally gave up, putting regular 1/4 inch elastic directly in the sleeves and making a casing for 1/4 inch elastic for the waist.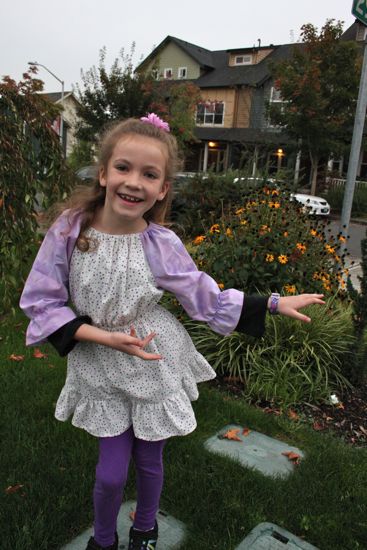 The other disappointments are all my fault. I misread the fabric requirements when I bought the polka dots from
Stash
and ended up with fabric only for the body. We took the dots to
Pacific Fabrics
and got the purple for the sleeves, but forgot the fabric requirements (again!). Or maybe I bought fabric enough for short sleeves but then decided that long sleeves would be better? Either way, we've ended up with 3/4 sleeves.
The body isn't as long as I would like. In hindsight, I should have got purple enough for long sleeves and the ruffle at the bottom, using all the dot fabric to lengthen the whole thing. And I think I would have preferred the bottom ruffle more like that on
the red tunic
. Although maybe my ruffle objections are more a factor of the final length of the tunic; if it came to Caitlyn's knees, maybe it wouldn't feel so weird?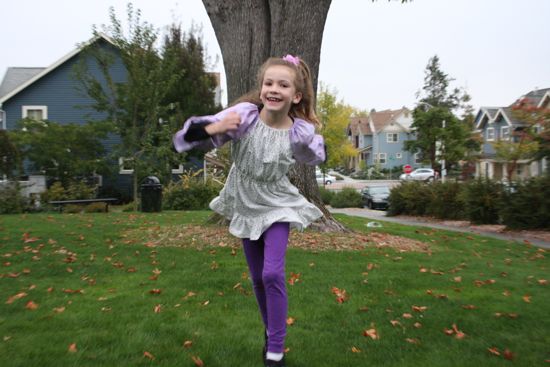 Oh well. Notes for how to do it better next time. In the meantime, Caitlyn gets a new tunic to wear for her last day as "Student of the Week". She's getting a kick this year out of informing everyone that her mama makes her clothes. And I'm enjoying that while it lasts!