I've actually finished a quilt this year!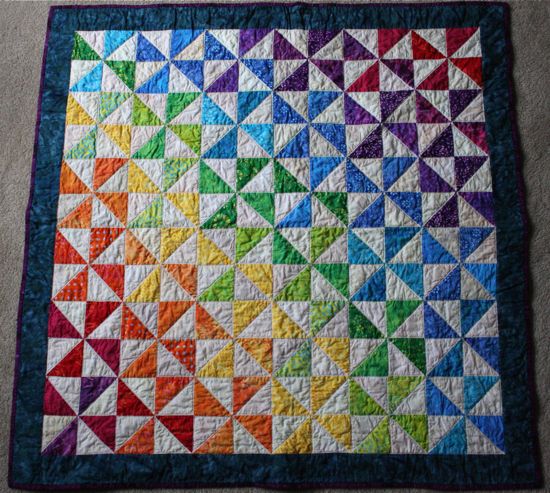 I have a pile of Works in Progress teetering on the chest in my work space and I keep adding new fabric for additional projects to it (see the sidebar for details). Somehow, the size of the pile doesn't seem to deter me from seeing some
new project
and rushing out for supplies for
that
, too. There's probably some deep psychological statement to be extracted here: I'm afraid of running out of things to do? I'm afraid of the risk of starting something?
Whatever. It's time to celebrate something being
finished
.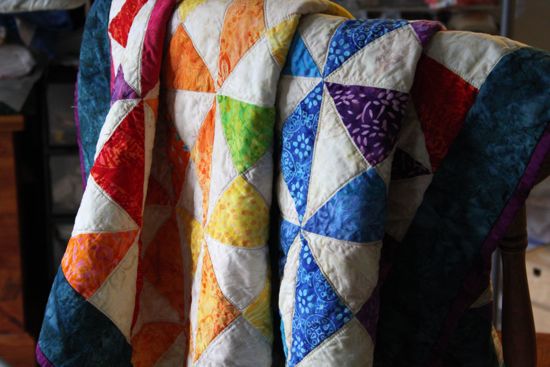 This quilt got started because I wanted to make a quilt for the impending arrival of
Caitlyn's cousin
and wasn't going to be satisfied just contributing
a square
to the larger family/community quilt that was in the works. I even knew from the start that I wanted my square in the community quilt to echo the larger quilt. But since I was involved the in the creation of the community quilt, I needed to keep this one fairly straightforward.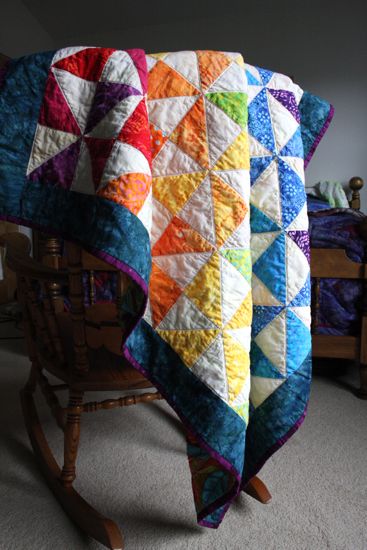 Thus, the half-square triangle pinwheels. I used half of two layer cakes from Timeless Treasures,
Meringue
and
Hard Candy
. (I suppose this means that I have leftovers on hand to make another. Hmmm...)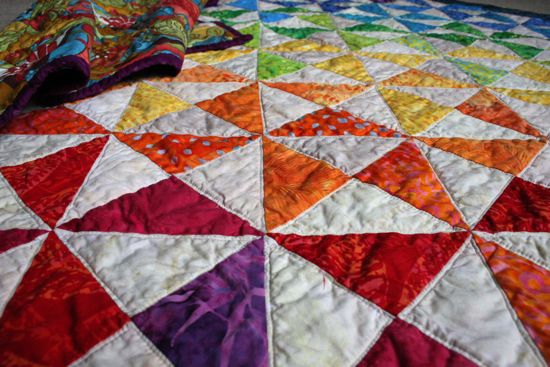 I completely failed to make a note of the backing fabric. It's crazy colorful and has these awesome bees buzzing about. Ian found it on a family outing to
The Quilting Loft
(hooray for fabric stores who have a corner with a toy basket!), after I had nearly settled on a solid teal for the backing. The teal would have worked nicely, but it would have tipped the quilt into "respectable"; the bees keep the whole thing more firmly in the "fun" camp.
A bit of frosting: having one of The Quilting Loft staff suggest that maybe I'd like to have the quilt hang in their store for a spell. Squeee!
Here's hoping it doesn't take me a whole year (again!) to finish another quilt!