The school district sent me an email yesterday (Wednesday) reminding me that there will be no school last Friday.
I realize that sentence makes no sense, but neither did their email. But it did remind me that Caitlyn and I spent some project time together last Friday, at her request, with somewhat mixed results.
Our first project was a kind of leaf printing. I'd done a search for crafts with fall leaves and
found this
. Note for next time: it could be significant if there are no photos with the instructions. Without pictures, my imagination provides the expected result, which, this time at least, was disappointing.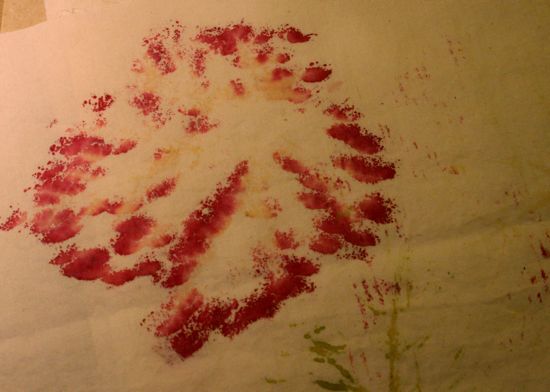 The idea was to collect some of our brilliant fall leaves, lay them on fabric, then pound on them and transfer the color to the fabric. I assumed that the color would transfer in the shape of the leaf, and we'd get a collage of leaf prints. Turns out, only the reddest of leaves have enough color to make a satisfactory transfer, and then only in those spaces you impact with your hammer (or other pounding object). We used a grape leaf in the photo above, which I think maybe you can guess if you squint sideways at it. Perhaps if we used a block to spread out the impact/weight of the hammer, we might have gotten something that looked more completely leaf-like. But, contrary to the instructions' promises, we did not get anything worth framing.
So, we made leaf collages on contact paper instead, and stuck them to the back door.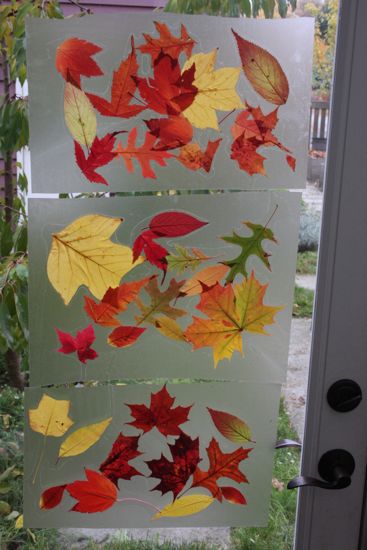 I found the this much more satisfying idea at
The Artful Parent
. Leaf colors
and
leaf shapes, held up where the light can highlight them. This is pretty spectacular on the days the sun comes out! And a bonus: the porch light over the door illuminates the top arrangement after dark.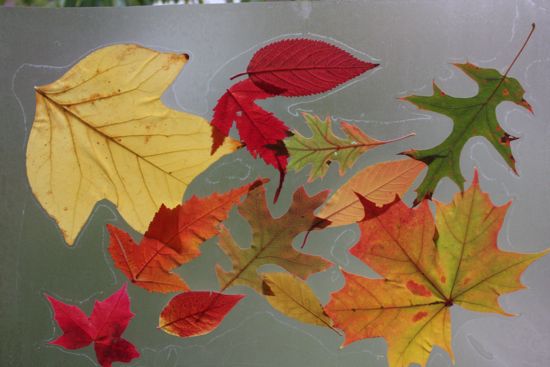 Even better, this was a collaborative project, not just me setting things up and getting out of the way or both of us working in parallel. Caitlyn would place a leaf, I'd place a leaf, and we'd talk about using the space and leaf arrangement and which leaves were just slightly fuzzy and prone to falling off the sticky paper.
Not a bad way to spend a school-free morning.