I usually try to have at least some idea of what I'm going to do with a length of fabric before I buy it. It's not like there's a shortage of fabric in my sewing space.
When
Pacific Fabrics
sent out an announcement that this fabric line,
Catkin
from
In the Beginning Fabrics
, had arrived in their stores, I sorta did a happy dance in my chair. How can you not love cats in paisleys?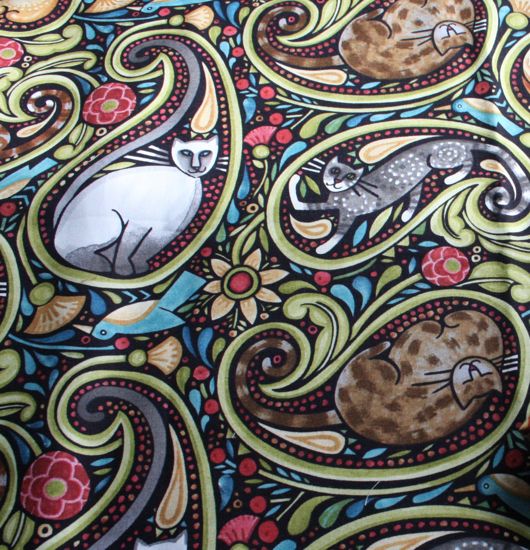 A week or so ago, when I was popping in for sewing machine needles (not an excuse, really!) I happened to notice something small (a potholder, I think) on display using one of the fabrics from this line and I thought, oh, I'll go check to see if they have the cats-in-paisleys print. It wasn't there last time, and I figured it was probably all gone. With some of this stuff, if you don't get it when it comes out, you miss out - some fabrics get printed only once and that's all, folks.
Wouldn't you know it, they had some!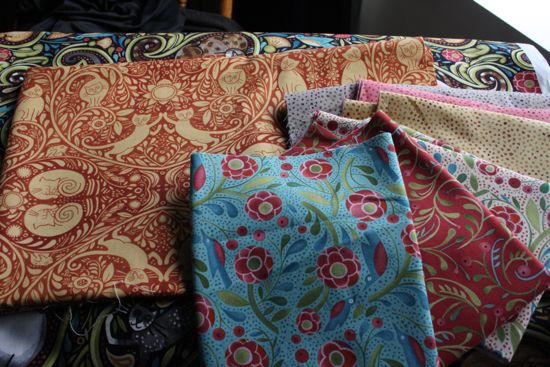 I still don't know what I'll do with it. I got enough (I think) to make some 8 inch setting blocks out of the cats to go between blocks made from the coordinate fabrics, but I may do something entirely different. Might just look at those cats any time I need a little happy dance.