Maybe it's the proverbial spring cleaning, but I've been on an organizing spree lately. I've got bags of out-grown clothes to take to
Goodwill
, books to drop off for the
Seattle Public Library book sale
, and dead electronics and computers finally making progress toward
Re-PC
and
Total Reclaim
. If it's been ignored for years, I'm making an effort to decide what to do with it and then follow through. I'm pretty good about bagging up Caitlyn's old clothes a couple of times a year, but they usually move
as far as another closet
, not actually out of the house.
Mixed in with a stack of old games, most of which we'll never play, I found plastic bags of chess pieces and poker chips. The bags were scuffed and dusty and sticky, the way old plastic bags can be. So I made new ones.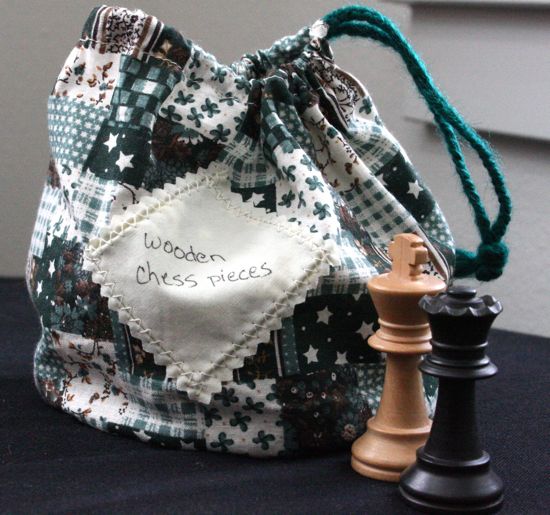 It's a variation of my
bulk goods baggie
, with a drawstring rather than a tie. So easy, I made three of them, all in relic fabric from the depths of the stash. The most time-consuming part: braiding the yard to get a decent weight drawstring.
I've no idea what we're going to do with three sets of chess pieces. But now when the bags get saturated with the dust of years, I can wash them.