I'm already hip-deep in fabric for
elsie marley
's
Kids Clothes Week Challenge
. I started tracing a pattern for one project, then realized I'd never held any piece of the pattern up to Caitlyn to see if if needed adjusting. I pulled out a project that's been on the to-do list since last fall, then decided I need to check measurements on that one, too. This is what happens when I don't do the prep work before she heads off to school on a Monday!
Fortunately, I have a project that's straightforward enough not to need a pattern or terribly precise measurements, so I've started there.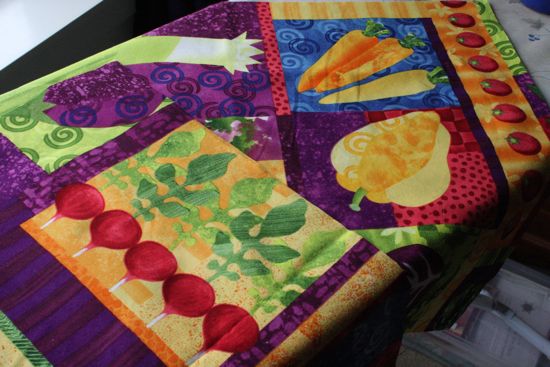 It's loosely based on
McCall's 5841
, but I'm off-roading quite a bit; that is, I measured the length and width of one of the pattern pieces and then cut similarly sized rectangles out of my fabric. The only problem: the fabric piece I had was too small. Oh well. I've added in some color block inserts and everything (I hope!) is just ducky now.
I checked my other pattern pieces with Caitlyn before she headed to bed, so I'm all set to go tomorrow. Of course, if we really do get to be partly sunny tomorrow, I'll be in the garden, pulling weeds...