Oh, my. Even on the hanger, this looks big.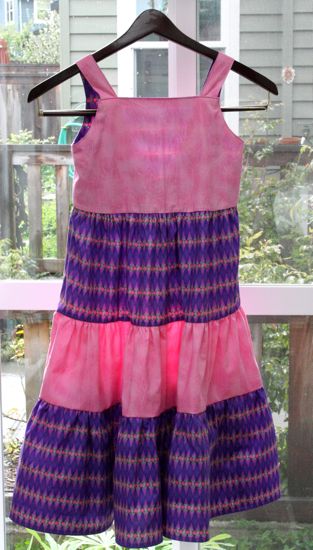 No off-roading here, just excessive enlarging. It's
McCall's 4817
and this is my fourth time around with it. Caitlyn's been wearing a version of this dress since the spring of 2009, (I think). She's wearing a yellow one in her school photo from her second year in preschool, she has a
blue one
, and a
purple one
(
her favorite
). The pattern pieces are cut at size 5 and I've dropped hems and repositioned shoulder straps on all the other versions. She's two years bigger now, at least. But I don't really know what I'm doing when I enlarge something.
Which is why this is roughly a size 8 now, I think.
Caitlyn's thrilled with it, of course. It's long enough that it trails behind her when she walks downstairs ("Just like Mama's skirts!"), and she can get back upstairs without tripping because "I'm walking on my toes." We've struck the compromise that this is a "special occasion dress" until it's not so big that it poses a danger on a playground. This has the added benefit of (hopefully) not being faded and threadbare by the time it actually does fit her.
Over in the positive column, I'm really pleased with myself for handsewing in the lining (instead of cheating with topstitching like I have on the last three). I think I may finally understand the pattern's instruction on how to put in the zip, not that I did it according to their directions this time either. And I remembered to line up the stripes before cutting out the pieces, so everything lines up at the side seams and remains level all the way around.
(The purple fabric was selected by Caitlyn off the remnants table last fall. Don't tell her it's actually called "Here Comes the Princess".)