Farmer Wade of
Rockridge Orchards
has been a fixture at the Columbia City Farmers' Market ever since we started being market regulars; he likes to say he's known Caitlyn since before she was born (which could be true since he appears at other markets in Seattle which we might have visited prior to Caitlyn's arrival - I don't remember). Caitlyn calls him "my favorite farmer".
Back before the economy declined and budgets were cut indiscriminately, there was a King County Harvest Festival. We meant to visit other farms, but we spent the whole day at Rockridge.
Caitlyn was about 2
. I've always thought we'd go again some year, but I finally gave up waiting for the Harvest Festival to come back.
Enter Homeschooling and the ability to go on any Field Trip I can organize.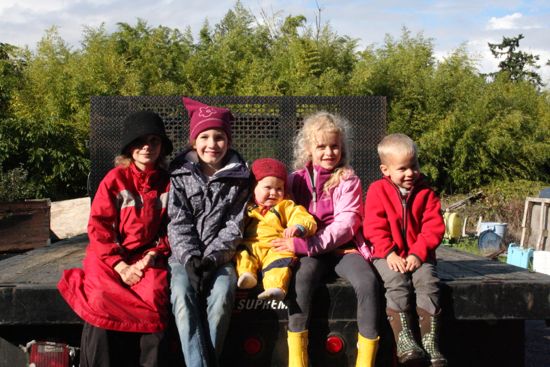 Wade grows apples and Asian pears in Enumclaw, WA. We drove down in the rain but got a window of clear skies for our farm tour. Wade walked us through the orchard, pointing out which trees produced which kinds of apples. Caitlyn and her friends got to pick and sample lots of fruit right from the trees, stuffing extras of favorite varieties in adult pockets. We sampled sweet apples, heirloom apples and cider apples. We saw what frequent hailstorms do to tree fruit.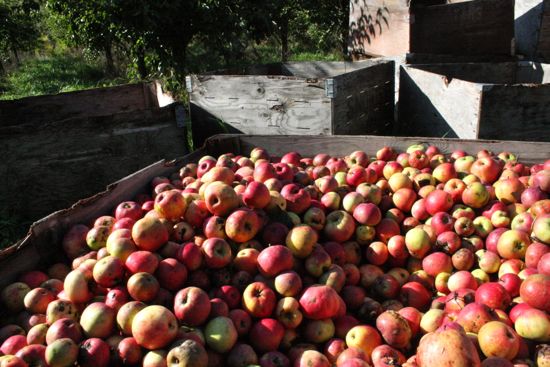 There's 1000 pounds of apples in this bin. They are destined for apple juice or cider, too small and too dinged up by hail to be marketable as eating apples.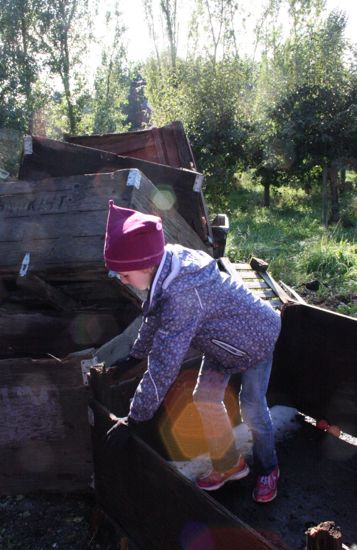 Caitlyn, of course, thought the empty bins were fun to jump in and out of.
In addition to a lot of apple and pear trees, we got to see where the apple juice gets made. One of those bins of apples gets dumped into a funnel, then the apples trundle down a conveyor belt, get mashed into sauce and strained for juice. Wade showed us the casks where the Rocksalmic vinegar and various ciders are fermenting and the kids got to try fresh honey.
I may have set the bar a bit high for future field trips. The kids got to slip and slide in 3 inches of fresh hail, eat a lot of apples, climb on the truck, and see where one of their favorite market treats come from. I'm not sure anything else I come up with in the next year or so is going to come close.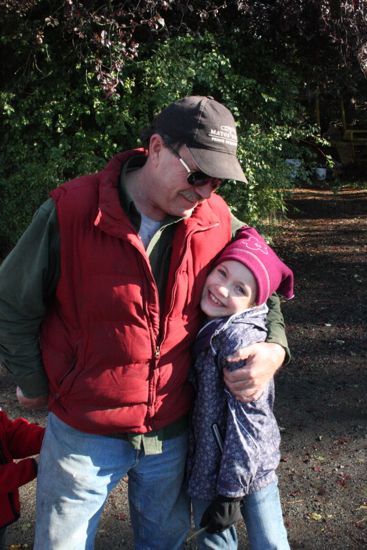 Best of all, we had Wade's (nearly) undivided attention for hours. That may have been Caitlyn's favorite part.