We finally had a day where all the variables lined up: decent light, not too cold to be outside in short sleeves, Ian available to take the photos. Here's my very own
Cake Patterns'
Tiramisu, the first completed real installment in my personal Wardrobe Improvement Project!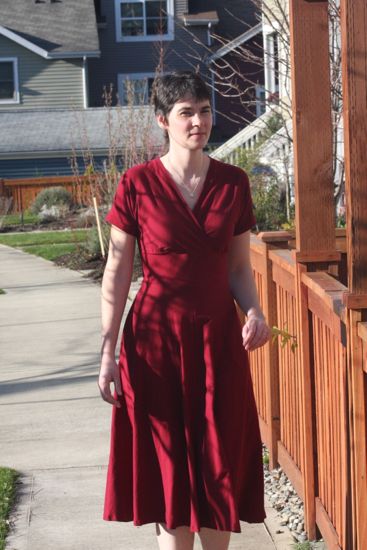 I started this dress during
StephC
's Tiramisu Sewalong, but didn't manage to finish with everyone else. The 30 minutes a day format of the sewalong didn't quite work for me (although it's possible I could have adjusted things to make it work) and I
spent so much time
trying to get the fit just right. I think it's close, but I'm not sure it couldn't be better. Sometimes, though, it's just time to move on.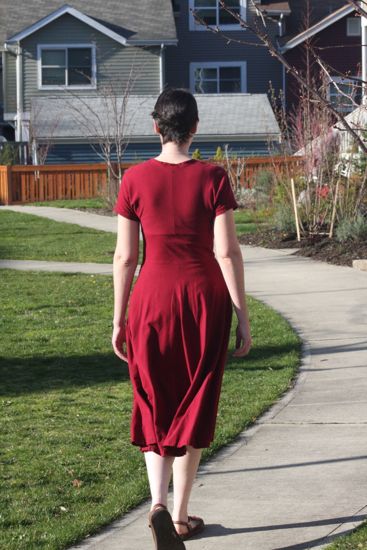 I did appreciate saving the side seams til the end; I think that part helped a lot with getting the waist fitting right.
(Yes, I am really that pale. It's spring in Seattle; we haven't seen the sun in months, and I'm not exactly a winter sport enthusiast making sure I acquire what little Vitamin D is available during the dark months.)
I used
my new serger
so hopefully all my seams are durable yet have some stretch to them. I'm a little worried about the midriff band, since I feel I need to be careful with those horizontal seams when taking the dress on and off. I'm not technically an hourglass, but my shoulders
are
wider than my waist.
Since wearing the dress, I've sewed the pockets closed and may get around to cutting off the pocket bags entirely. Maybe they would have worked out better if I'd stuck with the knit for the pockets instead of using some cotton. I was trying to avoid extra bulk at the hip line, but the change of fabric didn't really solve that. As an unwelcome bonus, the stiffer cotton made the pockets gape open in a rather unflattering fashion. Maybe a different knit would have made for less obvious pockets? This one is a touch on the cling-y side, so I'm pretty sure anything I put in the pockets would be visible and bulky-making.
I'm looking forward to warmer weather so I can wear my Tiramisu regular-like. I don't know yet if this is a special occasion dress or an everyday dress. Can it go to the Farmers' Market in the summer? If I wear it as a regular thing, does it change what I do? I wear jeans a lot now because they are warm and comfortable and versatile. I like the idea of skirts and dresses as a more regular part of getting dressed, but does that work for anything other than a long full skirt? What about full but less long? Less long and more a-line?