I've got my first completed quilt top of 2013!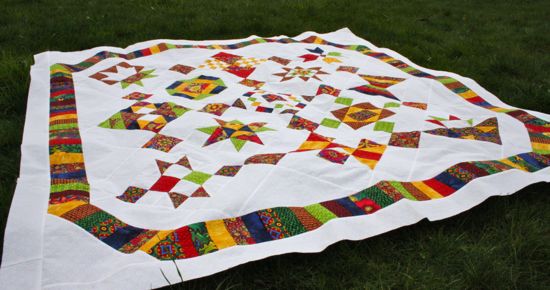 Really, it's amazing what one can do with several hours of quilty time each week. I've recently started working on Fridays at
Stash Quilt Shop
, and when I'm not cutting fabric for folks, I've got access to a sewing machine. There are several BOMs from last year that never got finished, so I'm using my Stash-time to finish them up. First up, since it was the farthest along: the
Bloggers' BOM
from Jackie at
Canton Village Quiltworks
.
The blocks are on point, with shashing and stepping stones. I think the border is called "piano keys" when it's made up of narrow strips like this. (Note to self: this style stays straight much easier if you can piece long strips, then cut several strip sets at the desired width.)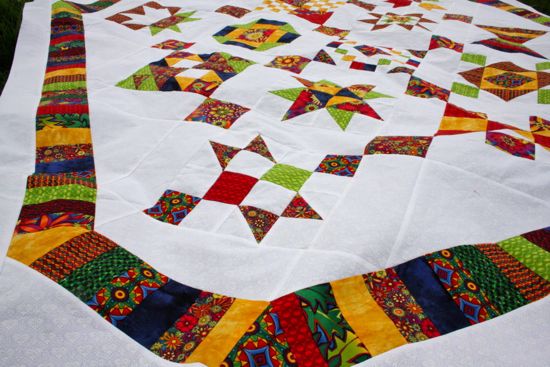 I'm pretty pleased with how the angled corners came out in the border. I suppose it would have been easier to add triangles before the border, so that the border corners were at right angles. And I don't have any great guidelines for doing those wider angle easily or neatly. I left the last half-inch or so unsewn on the long edges, added 3.5in squares to the ends of the shorter border sets, attached the border, then did some folding, fudging and finagling, with a lot of help from the iron, to overlap the borders at the corner. Pin, sew, press, sew again if pressing revealed that the seam was in the wrong place. It's an inelegant system, but most of the corners came out well. There are a few tiny puckers in some of them, but you'd have to be really looking for them to see them.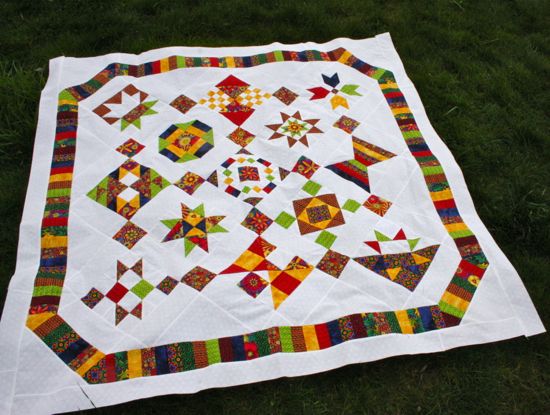 Once the first border was nearly done, I decided to go around one more time with the white and square it up with corner triangles. I liked the idea of the inner border looking like it was floating around the center blocks. Now, to decide what to bind it with... Should I pick out one of the colors or look for a fabric that could bring out several of them? I currently thinking the backing will be black and white. Maybe a gray binding?
And should I name this one something more interesting than "Bloggers' BOM"? I was thinking Jewelbox, but I'm not sure it'll stick. Thoughts?