Well, I
was
going to post some pictures of the bunny that Caitlyn will be discovering outside her bedroom door on Easter, but apparently I didn't manage to take any decent pictures today. I think I might have been a bit too enraptured by the sunshine, since I put the bunny directly in said sunshine, ending up with photos simultaneously too bright and too dark.
If the sun comes back in the next day or so, I'll try again.
Today was the first day of Caitlyn's spring break, and she did a lot of coloring. The marble run and the train tracks came out, but I think she mostly put the marbles into things ("Mama, come see how full this car is!"). She also tied her yoga ball to her bum with a long scarf and made her own
hippity-hop
, then proceeded to nearly fall down the stairs two or three times.
We walked to the library ("Do we have to walk???"), discussed the simple machine nature of screws while assembling a small shelf unit, and discovered that she's too tall to stand up underneath the plant shelf in the sunroom. She wrote out the labels (I spelled the words for her) for the newly reorganized craft and project supply boxes, something I hope will help her remember what goes where when it's time to clean up. And she got to visit the rabbits next door, of which, I believe, there are now 12, seeing as they breed, well, like rabbits.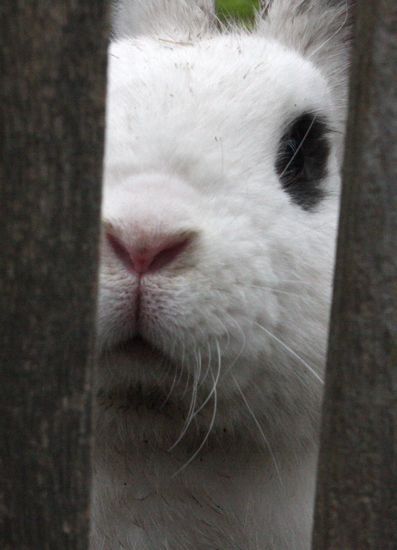 From this angle, he's a rather intimidating critter...