Today, I used up the last of our stored potatoes, turning them into soup for tonight's dinner. They weren't much good for anything else, all shrivelly and going soft and putting out seriously desperate roots. Soup was good, though.
I'm thinking I'll drape the potato box with heavy black cloth next year, on the theory that the opening and closing of the pantry door, not to mention turning on the pantry light, for the last six months has provided enough stimulus for the potatoes to think they should start getting ready to make more potatoes. Perhaps a colder environment would be helpful in stretching out The Duration of Successful Potato Storage. If I can arrange a sufficiently light-proof container, the sunroom in the winter might be sufficiently cold to help the potatoes maintain hibernation just a little longer.
And then the Potato Life Cycle as it plays out at our address would have a nice symmetry to it. Because the sunroom is where this year's potatoes get started.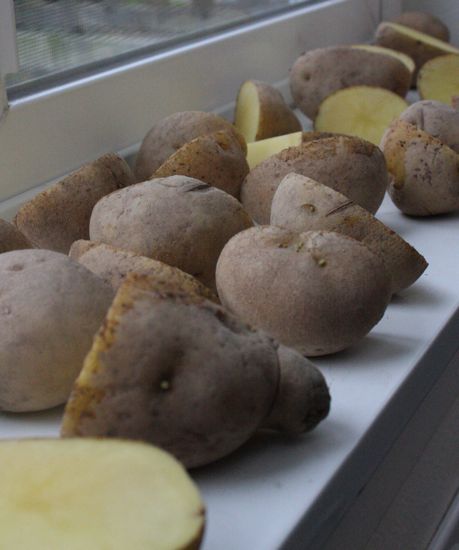 The seed potatoes (Yellow Finns) arrived on Friday from
Seed Savers Exchange
. I wish they offered a small sampler set. I don't have the space for planting any more than the minimum 2 pound order (and that just barely), but I'd love to be able to get a mixed bag so I can plant a couple of the blue potatoes, a few purples, and a handful of reds along with the standard yellows. Of course, I'd want them all to be harvestable at the same time so I could make a multicolored potato salad while it was still summer.
The first step in growing potatoes is to cut the large seed potatoes down to something closer to golf ball size, making sure there's at least one eye on each piece. Then put them somewhere warm and sunny and let them wake up. In about three weeks, those little eyes will be leaf buds and it'll be time to move them out the garden.
So today I started some potatoes and I finished some potatoes. And thus goes the Great Cicle of Potatoes.