Last week, Caitlyn had her last class with Leslie, her circus coach of at least two years. Time to move on to Circus 2B!
I don't often bring a camera to
circus class
. Most of the time, parents are gently directed to an observation room. Because of the way SANCA has grown, these days the observation room overlooks only about half the gym, resulting in about 2/3 of Caitlyn's circus time happening out of view. But every twelve weeks, out come the folding chairs for "Demonstration Week." I brought the camera and followed the class around, ignoring the chairs and watching everything through the viewfinder. Classic parent moment.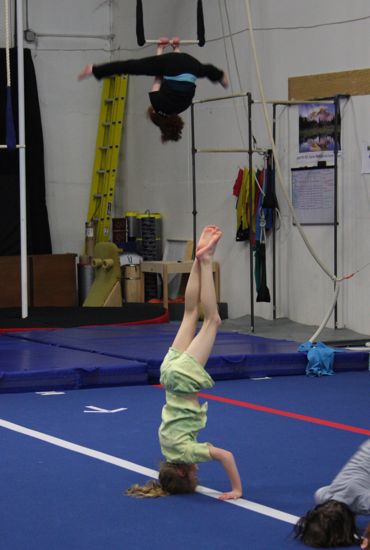 Every class starts out with warm ups and then tripods to headstands.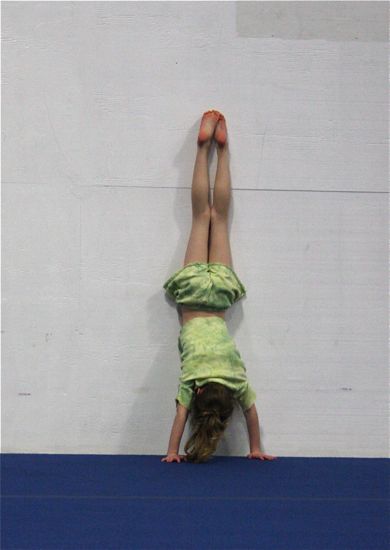 Then something they call "kick ups", followed by handstands against the wall.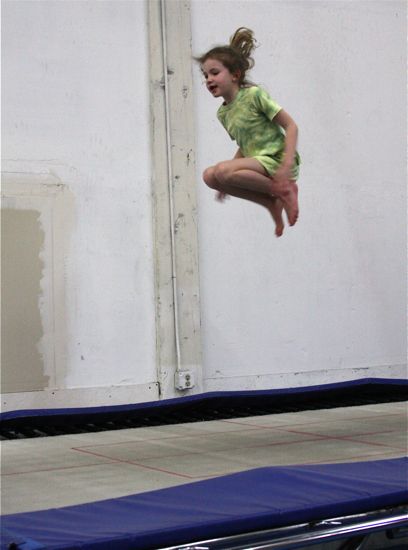 Caitlyn loves the trampoline. But it's really hard to get good photographs! The class has worked up to a "trampoline routine" involving seat drops, dropping to hands and knees, dropping to a flat on-the-belly position, and rotations while jumping. They all tend to travel a bit as they jump, but they all have remarkable control when it comes to freezing on command and walking off the tramp.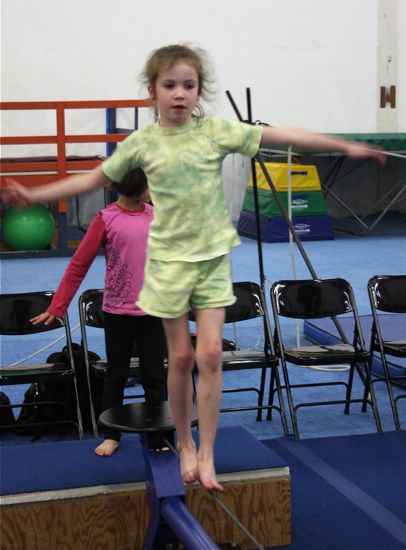 It's not circus without a tightwire! Caitlyn can get about two, sometimes three, steps down the wire before wobbling and leaping off. I think she'd do better if she slowed down and didn't try to race to the other end!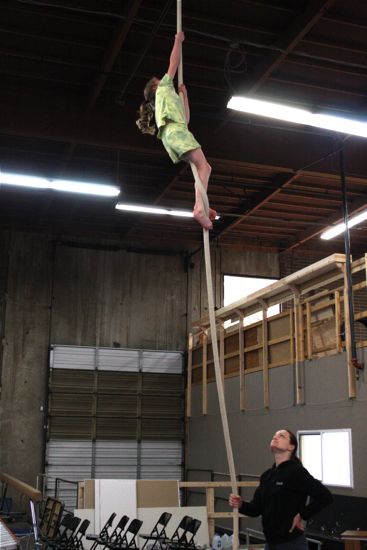 Climbing might be Caitlyn's favorite activity. She is pretty pleased with how high she can climb, but so disappointed she didn't make it all the way to the top, especially since this is one of the activities I almost never see from the observation room. I think she made just a little bit further up than this, about 14 or 16 feet off the mat, before heading down. After this summer, she'll be old enough to think about specializing if she wants to, focusing more on
aerial
work or
tumbling
skills.
At the end of class, we took a class picture (since there were all these parents with cameras) and the kids arranged themselves in a pyramid. Caitlyn was in the center bottom position, sharing the weight of two of her classmates with the other two in the bottom row. They stayed like that for several minutes it seemed, which is pretty impressive strength and balance for a bunch of 5 and 6 year olds.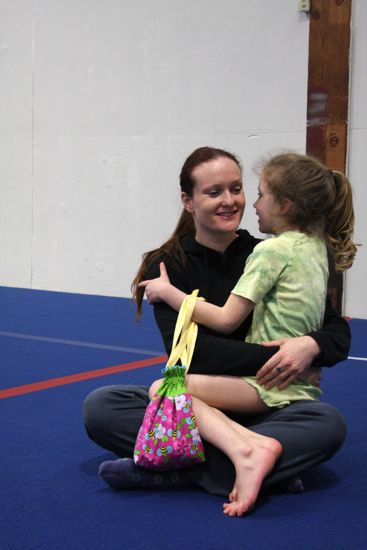 Caitlyn made a drawing just for Leslie and wrote out a thank you note, which we packaged up in another of In Color Order's
lined drawstring bags
. I got to use my new
Fasturn
tools to make the drawstring, too! Caitlyn's bummed that Leslie won't be her coach any more, but she's already looking forward to her new class (new coach, new friends, new skills, longer sessions) on Thursday.