I sort of fell off the Internet there for the second part of December. Wanna know why?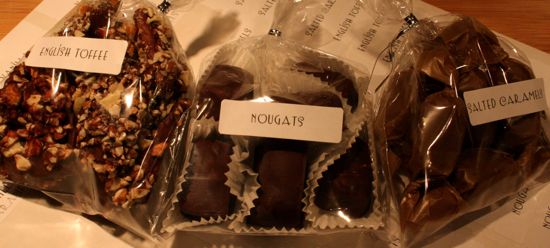 After
last year's first attempt
was deemed a success by my candy-making grandfather, and with his candy-making tools in hand (omg! marble slab ftw!), I picked up the family Christmas candy tradition. I've always thought that someone should carry on Grandpa's candy making; if it's me, I get to claim the extras.
I guess there's an ulterior motive for everything.
Grandpa made caramels for years. I remember there were a few years when I was a teenager (I think) when he made all sorts of candies: brandied apricots and crystallized ginger and truffles and chocolate covered cherries. The caramels were a staple.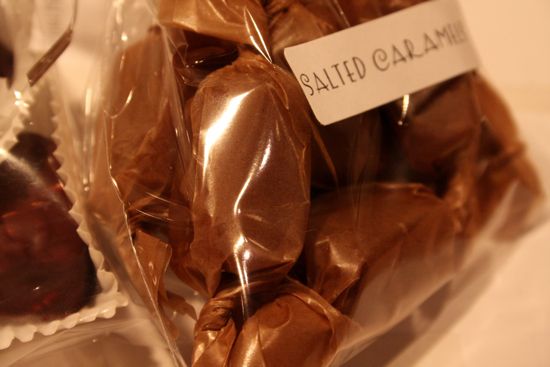 I made three batches according to his recipe and then off-roaded a bit to come up with a salted variation, which have generally been well received. Those who
really
like salted caramel think I didn't add enough salt, but those who don't really like the stuff think there's just enough salt to make the caramel flavor pop without being too salty. I might try a version next December that's slightly less salted and a version that's slightly more salted. See how that works.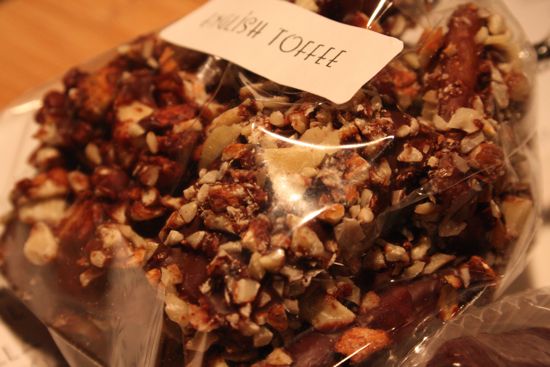 I made English toffee, of course, because I can't imagine Christmas without it. Maybe the rest of my family doesn't have this problem. I don't think they are complaining that I do.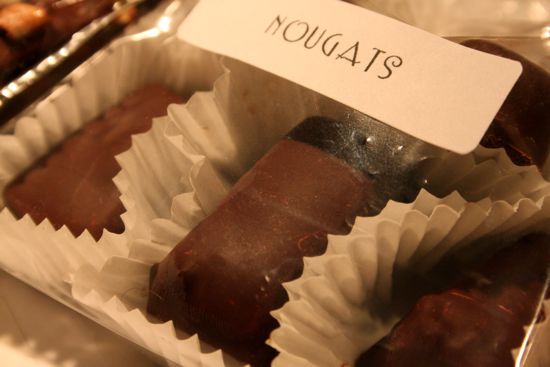 And this year's new addition: nougats! Sugar in several forms, mixed with whipped egg white, folded around chopped cashews, then dipped in chocolate. The stuff is amazingly hard to cut into bite-sized pieces. A two-handled knife would help. Beyond that, I'm not sure. Warm nougats stick to the knife. Cold nougats shatter when cut. Ideas?
Oh, and please take a moment to admire the packaging. I'm ridiculously pleased with myself for the presentation of my candies. Simple but elegant. Much better than Ziplocs.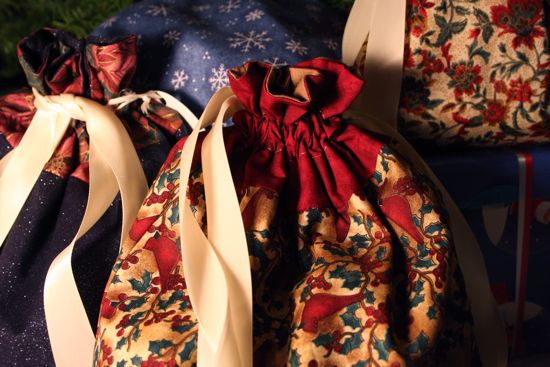 And speaking of presentation, remember
this project
? Grandpa's Christmas candy always came in red paper gift bags. I decided to put my own spin on the tradition and made fabric bags. I used Jeni's
tutorial
over at
In Color Order
(although I forgot to put the gussets in on all of them!).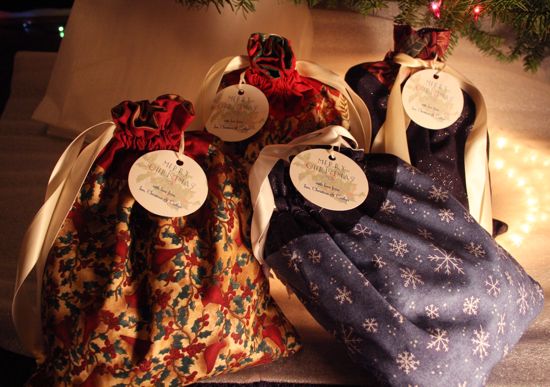 I'm super-pleased with how they came out and have serious ambitions about making these bags part of the candy tradition. After making the dozen I did this year, I felt a bit cheap relying on the tutorial, so I now have my own purchased copy of Jeni's
pattern
(Thanks, Lianna!). This may be the future of gift-wrap around here. And I may finally have a reason to go to those Christmas in July sales and stock up on holiday fabric.
Although I made all of this first group of bags out of stash fabric, so maybe not right away.
So, there you have it: I fell off the Internet and into the kitchen and the sewing corner. And now it's January and while I'm done with the candy-making (although maybe Caitlyn and I will make a batch of something unusual sometime), I'm planning on keeping up with the sewing. More on that later.
Excuse me. I need to go eat a leftover nougat now.