Caitlyn received a new box of colored pencils and a pad of quality sketch paper for Christmas. This is one of her first creations: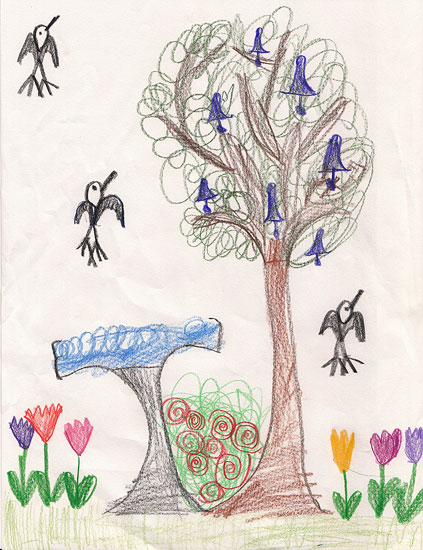 She took her time with this drawing and chose not to fill in the sky, both of which are historically unusual. She told me she'd decided not to color in the sky since she didn't want to totally use up her new blue pencil. I told her it was a perfectly valid artistic choice and that sometimes what leave uncolored is as significant as what you do.
At least, that's what I tried to say. I probably used too many words.
I did use lots of words to tell Caitlyn how much I liked that she'd taken her time, though, and that she'd been careful in her work. Favorite parts: the bluebells in the tree (they've been mentioned in
The Secret Garden
, which we are reading at bedtime, but she's not seen a picture of them - I love how this drawing shows how she imagines them, and I wish I could tell her she was right!), the stylized birds, and the rose bush (with the red spirals - what a clever way of expressing the complexity of rose flowers!).
In other Creative Caitlyn news, she and Ian created this
short stop-motion animation
, using some of the Lego sets which arrived for Christmas. Ian operated the camera and Caitlyn did all the animation. She's enormously proud of this video!