Despite my best intentions, it seems that as the seasons tip into fall, I start feeling generally dissatisfied with the contents of my closet. It's not that there's a shortage of clothes in there (although I'm wearing holes in nearly all my jeans). It's not that I've grown out of anything (unlike Caitlyn). It's not that I have new places to go or people to impress with an up-to-date wardrobe. It's not like I need to be fabulous when I spend the day at home, banging away at the computer and stirring up messes in the kitchen.
I mentioned this to someone (I've totally forgotten who by now) and she pointed out that I probably had done the typical back-to-school fall shopping as a kid, enough so that I'm essentially trained to think Fall = New Clothes. It makes sense. And much of the time, I'm pretty good at ignoring the impulse to buy more clothes. I may feel I need new clothes because it's fall, but that feeling has yet to be strong enough to outweigh my general dislike of shopping.
Yes, I'm a terrible American Consumer. I don't like shopping. I especially don't like shopping for clothes, especially for me. You see, despite the fashion and advertising industries claim that the Ideal Woman is tall and slim, it's very hard to find clothes that actually fit a person who is tall and slim. I'm 6 feet tall, short-waisted (which makes me very long-legged), and while I'm not exactly athletically fit, I don't carry around a lot of extra weight. The
CDC reports
that the Average American Woman is 5 feet, 3 inches tall and 164 pounds. This is the body that ready-to-wear fashion is trying to dress, not mine.
Forced to confront the increasing population of holes in my jeans, I headed off to
Eddie Bauer
, my resource for jeans that aren't obviously too short for the last several years. My first mistake was to go to an actual store, where the selection is limited to the of-the-moment styles. But even online, where there are more styles, the fabrics are already pre-distressed. I wear my jeans until they literally fall apart; I don't need them to start out half-way there.
I'm starting to seriously consider giving up mainstream clothing entirely. I'll just make everything. That way I can have my jeans start off in new denim and go all the way to my ankles. And while I'm at it, why not make my shirts and have them neither baggy or cropped, with sleeves that go to my wrist. The only long sleeve shirts I have that are actually long enough in the arm were purchased in the men's department, which is hardly flattering to the rest of me.
So, when I saw that
The Quilting Loft
was going to host a class about sewing with knits, I signed up. I feel fairly confident when sewing with woven fabric (although I haven't actually tried to make a pair of jeans yet), but knits have been something I figured was out of reach without an investment in a serger. When Caitlyn was younger, I converted a stack of old onsies into t-shirts by cutting off the snaps and zig-zagging the raw edge. They rippled and ruffled rather badly, which worked on Caitlyn at age 2, but was enough of an unexpected result that I just figured that I wasn't properly equipped for knits. Recent reading has suggested that I didn't need a serger, but since the
things I made with knits last spring
now need to have most of their seams repaired, I still wasn't confident that knits were something I could work with. And if I'm going to move toward making things that actually fit me, I need to get this knit thing figured out.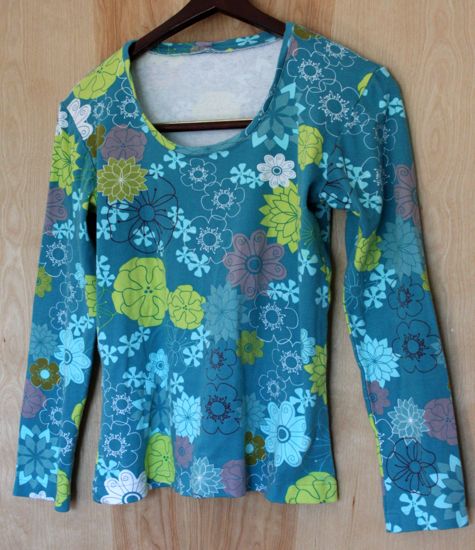 Sometimes there is really no substitute for getting a lesson from someone who knows what they are doing.
Cheryl
was great, not only minimizing the mystery of working with knits but also showing the class how to take a finished shirt and reverse engineer it. I came to class with two t-shirts, one that fit me in the torso and one with long sleeves. As part of the class, I made a pattern for a single shirt that wasn't overly large and had long sleeves. I added length so that the finished sleeves actually reached my wrists. We dropped the neckline a bit, and I think I could figure out how to change it up so I could make a v-neck or a scoop neck with some gathering.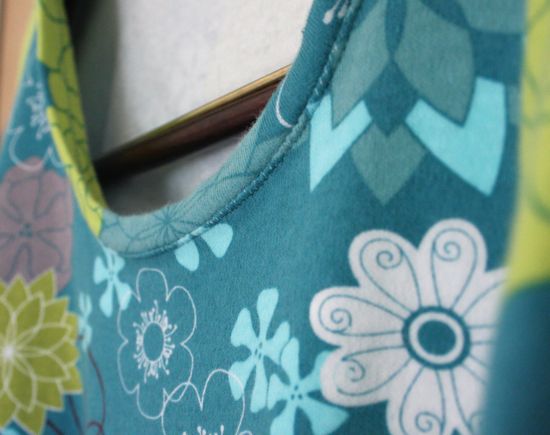 There's just one problem: I didn't manage to pick up my fabric before class. And while it was fun to have a whole store of fabric to choose from when it came time to lay out my pattern pieces (fantasy: having so much fabric on hand that anything I want to do is possible
right now
), it really is better to prewash everything. Including knits.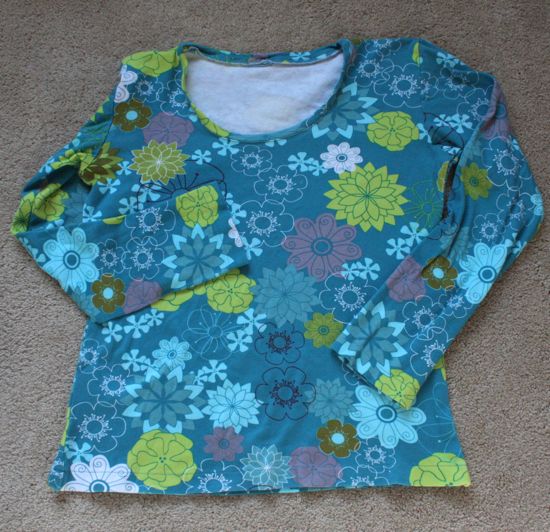 Those luscious long sleeves are now three-quarter length sleeves. And the shirt is too tight in the underarm. And it's shorter overall than I'd like.
I'll be heading off to a fabric store some day soon to pick up another knit. I'll wash it before I do anything else with it. And I'm going to make that shirt again. The prospect of something that fits the way I want is really appealing, now that I've had a taste. Who knows, I might even take up fashion design, just for us tall, slim, excessively practical people. There are more of us out there, right?