About seven years ago, I picked up what I think was my first fat quarter bundle. I was at In The Beginning (which has since closed it's retail store and is a
fabric design house
and there was just something magical about these bundles of coordinated fabrics. I had no idea what I was going to do with the fabrics but I bought them anyway. I washed them and ironed them and put them away. They've come out a couple of times, most recently when I was thinking about
a skirt for Caitlyn
. When I visit fabric stores now, I take a spin through the precuts (fat quarters, jelly rolls, layer cakes, charm packs, etc), and most of the time I'm a little bit better at knowing what I'd do with a bundle before I fork over the cash.
But that purchase may now be justified! Just shy of a month ago, I found
Canton Village Quilt Works
(via
Quilt Dad
) and discovered the launch of Jackie's
Blogger's Block of the Month
. It's kinda like quilt-along, but since it lasts for a year, it's less time-crunchy. As an added bonus, this one is free, which totally compensates for not having a clue about how the whole thing is going to come together.
Block Number Two is announced tomorrow, so I've just squeaked in by finishing this first block (designed by Sherri at
A Quilting Life
) today.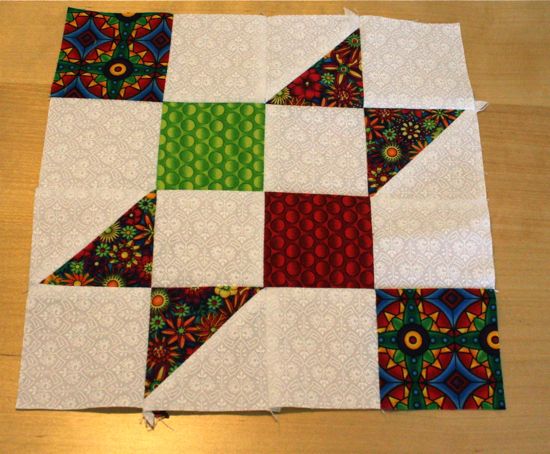 There will be 12 blocks total (I think) and they are each about 8 inches square. With luck, the fat quarters I bought all those years ago will be enough for the foreground fabrics. (The background white is something I've had since I bought it in 2002 to drape over speakers at
our wedding
.)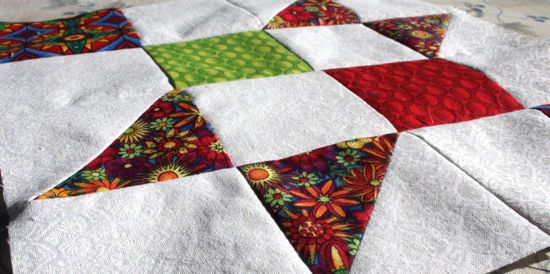 Of course, if that's true, I'll probably have a harder time resisting picking up the occasional bundle of pre-cuts. I may have started something terrible here.