It's
Sew Grateful Week!
That means it was just about a year ago that I started looking around the internet for folks who sewed clothes for themselves. Not to knock the quilters I follow or those who sew kids' fashion, it's just that I want to also sew for me. I may not comment much, but I'm a regular lurker around
My Happy Sewing Place
,
Four Square Walls
,
Cation Designs
,
Ginger Makes
, and several other sites. I may be moving slowly on my own Wardrobe Improvement Project, but I'm pretty sure any forward progress at all is at least in some part due to these ladies sewing so prolifically and posting about everything.
So, I'm grateful for the inspiration and encouragement of Teh Interwebs and for all you folks out there who take pictures of your successes and your failures. I appreciate your inspiration, your enthusiasm, and your willingness to share your experiences. Cheers!
While on the subject of gratitude, I would be remiss in not acknowledging my gratitude for the time and space in my life that allows me to compulsively sew things. I've got an encouraging husband and a kid who willingly wears what I make for her. I recognize I'm blessed, and I'm very grateful for those blessings.
But Sew Grateful Week isn't just about reflecting on one's own blessings; it's about giving, too. I've got two patterns which would love to find new homes!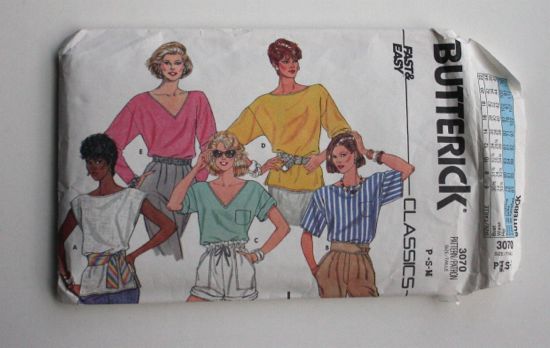 Butterick 3070. Copyright 1985. The description says, "Loose-fitting, pullover top has neckline variations, dropped shoulders, side hemline slits and short or long sleeves rolled up (wrong side shows). Narrow hem." It's a multi-size pattern for petite-small-medium (30.5-32.5-34) and it's been cut to the medium. It's missing a back facing piece, but I expect it wouldn't be hard to draft a facing piece from the other pieces.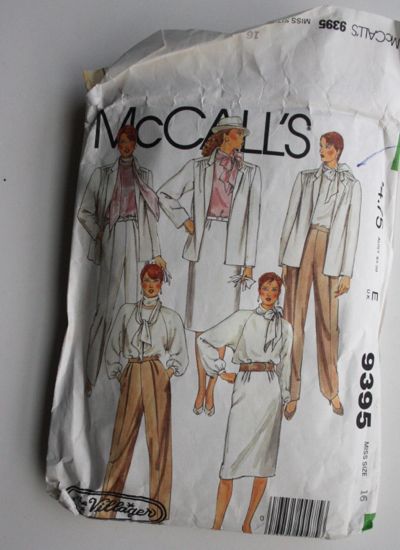 McCall's 9395. I can't find a copyright date on it, but it looks mid-80s to me, although I'm not a very good judge of these things. It might be the style of the illustration (check out the blusher!) that makes me think 80s and not the style of the clothes. Anyway, the description says, "Lined jacket has front and back gathers, yoke with forward shoulder seams, shoulder pads, notched collar, pockets in side seams and long sleeves. Pullover blouse has bound neckline; raglan sleeves with deep armholes are gathered to buttoned cuffs. Self-fabric scarf is cut bias. Straight skirt has soft front pleats, pockets in side seams, back vent, back zipper and waistband. Straight-legged pants have front pleats, pockets in side seams with left side opening and waistband." It's a size 16 (for a 38 bust).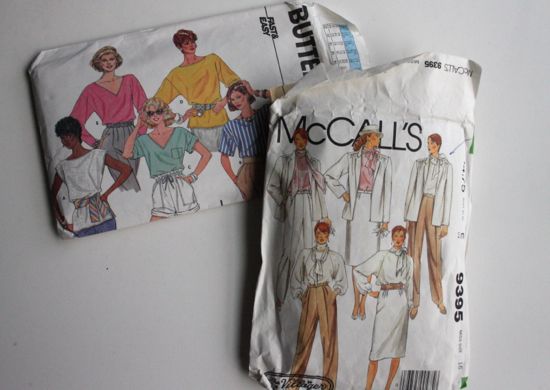 There's also the very real possibility that a little something extra from me might be included with the patterns. Pattern envelopes fit so well inside the
drawstring bags
I make...
If you'd like one or both of these patterns, please let me know which one(s) in the comments. I'll give them away separately or together, depending on how many interested parties speak up. The giveaway is open until Feb. 12, and international entries are welcome!