Remember
this project
? Want to see what it became?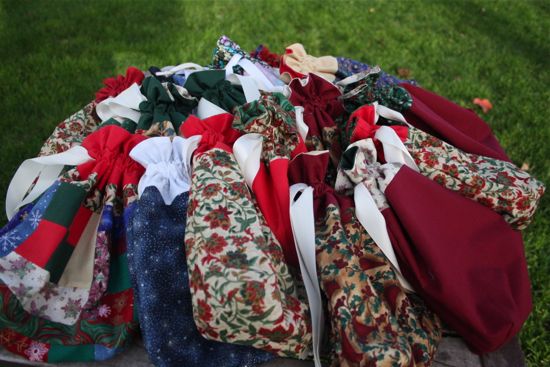 These bags are officially tradition now. I made about a dozen (some of last year's bags were returned for refills) of the tutorial size of
Jeni
's
Drawstring Bags
, which is the perfect size for several bundles of homemade candy.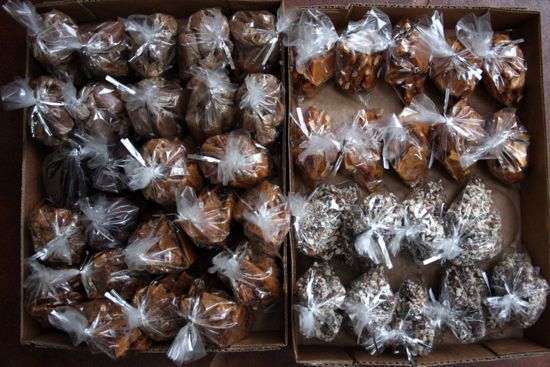 This year, the fabric bags contained the required caramels and English toffee (from Grandpa's recipes), as well as salted caramels (which might become a staple), peanut brittle and chocolate dipped marshmallows. I was hoping to also include opera cremes, but that
didn't work out so well
. And I ran out of time before I got to the sea foams. Oh, well. Thus far, no one has complained. :)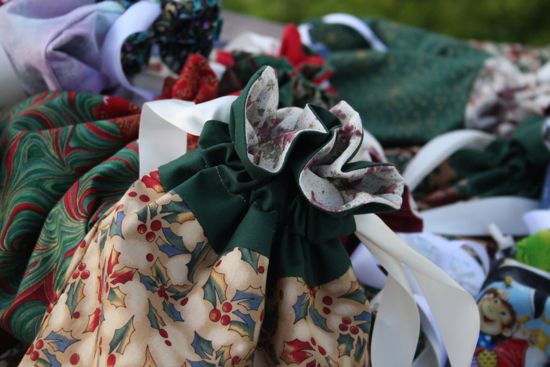 In making this year's bags, I used up all the "seasonally appropriate" fabric I had left in my stash. Which resulted in this bag, which is my favorite of the bunch.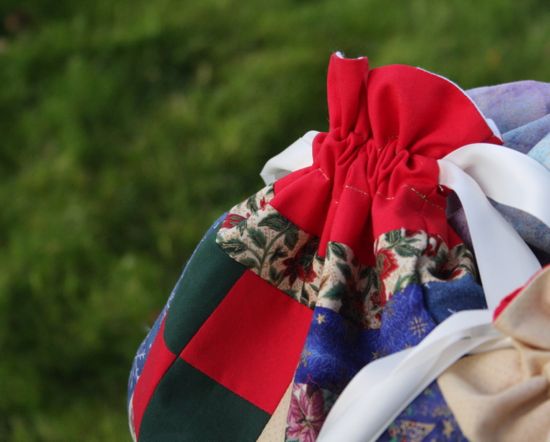 I "improv pieced" the exterior of this bag from assorted remaining too-small bits. This improv experience was much nicer than
the last time I gave it a try
, possibly because I was using a smaller set of (coordinating) fabrics on a project that was much smaller. Next time I try something like this I should pay a bit more attention to where different parts end up; my favorite bit (a 2 inch tall strip of alternating solids) ended up on the bottom of the bag!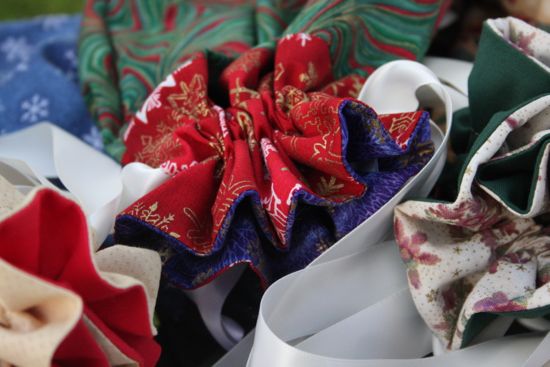 I love that I'm carrying on with the family candy tradition. Maybe one year, I'll keep track of the pounds of things I use, although I'm really hoping I don't get anywhere near Grandpa's high-water mark of 80 pounds (although I can't remember now if that was 80 pounds of finished candy, just 80 pounds of caramels, or 80 pounds of sugar used). Grandpa put his candy in red paper bags, and you always knew there'd be caramels and English toffee in that bag, sometimes something more. We'd give the empty paper bags back to Grandpa, "for refills".
I like to think that some of my fabric bags get an extra life as cosmetic bags or project bags or toy bags or gift bags. Although if some of them come back to me for refills, that'll make me happy, too!