Maybe it's my reading list, but I've got this notion that lots of us quilter/seamstress/sewasaurus types put a movie on while we're working. Let me just say, I'm jealous of all you who can sew and watch
Downton Abbey
at the same time
. I tried sewing and watching
Serenity
once; the project I was working on took twice as long as it would have normally, and I felt like I missed half the movie.
But, around here, we listen to music constantly. We cook to music, clean to music, work to music, sew to music. And because Ian is also a developer, we have a little thing called
Fathom
.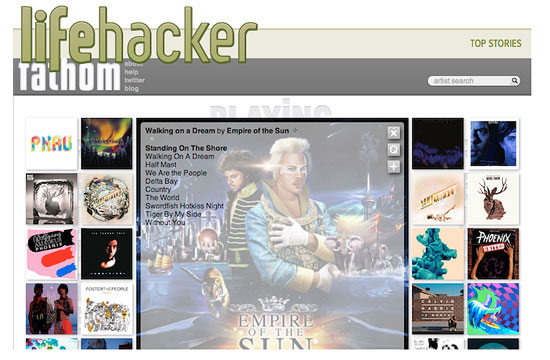 Choose a musician/group you already know. Fathom will start playing an album from that artist (if you've got an
Rdio
account, you'll get whole songs; without one, you'll get 30 second samples) and give you 20 other albums from related artists that you can then explore or queue up. It works with modern popular music and with classical composers, too. Making a several-hour queue to keep your sound-space full while you piece a quilt or make a dress is easy.
Do you put music on while you work? Or do you work better with the sound off?