It's only been recently that I've started to take seriously the challenge of "sewing down" the fabric stash. Several of last year's projects have "use what you have" as part of their guidelines. I've used stash-fabric for many of my Sew.Quilt.Give. contributions. Throughout last year, I had the general goal of not buying lots of new fabric; I don't know that I succeeded at this, since I have a teetering pile of "potential" clothes.
Not buying more fabric is one thing. Using up the stuff on hand is another. I may have intentions to live lightly and not accumulate
stuff
, but accumulation seems to just happen. When I was quilting right out of college, I didn't have much of a fabric stash nor a lot of disposable income with which to build it. When I accidentally cut too many of something (or cut a shape out backwards), I kept the pieces. They went into a box with the idea that some day, I'd need a scrap of something or I'd make a something out of all the little bits.
The box has gotten a bit full in the last decade or so.
Last month, I opened up the box and went digging for things I could turn into 2.5 inch squares, for the
Postage Stamp Block Swap
. I started putting some odds and ends together, including making a postage-stamp-style block from a collection of mostly blue and white floral rectangles.
So, when
Cation Designs
and
EmSewCrazy
announced a year-long
stash-busting project
, I thought there might be some mission overlap. I've refrained from listing out specific stashbusting goals, but when I can make my own projects line up with their monthly themes, I'll play.
I've managed to finish this just in time for the end of January's Itty Bitty Challenge: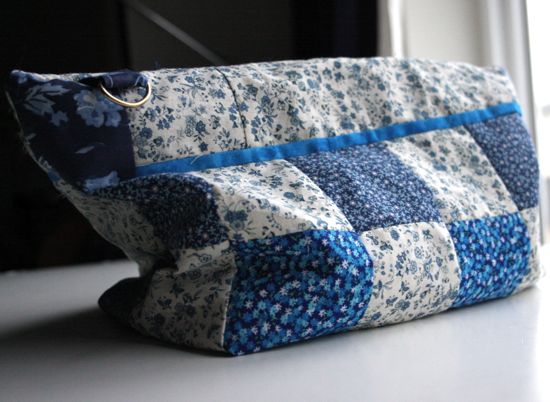 Sometimes, I need a small, squishable purse substitute. Something to put the little things in (wallet, phone, lipbalm, sunglasses, etc) that I can drop into something else (project bag, bike pannier, backpack, etc).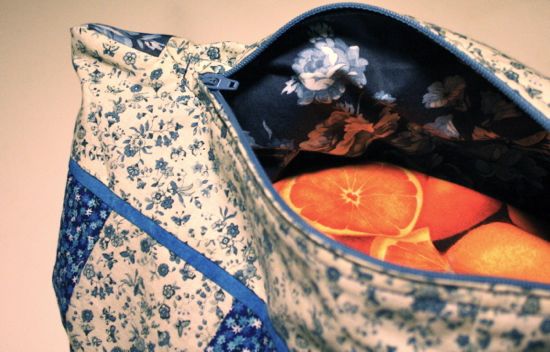 I won't claim that it's beautiful or stylish, but I expect that this post is the most the world will see of this pouch. I made it up as I went along, and it's got a most unconventionally installed zipper. But it's functional, uses up those mostly blue and white rectangles I wasn't ever going to use for anything else (they aren't really my style), and uses up a couple of pieces of a larger blue floral that's been in my stash since college (it covered the top of the wardrobe that was next to my top bunk).
And the next time I ride a bike to the grocery store, I won't have to worry about losing my keys or my phone under the milk on the way home.