These are not my tomatoes: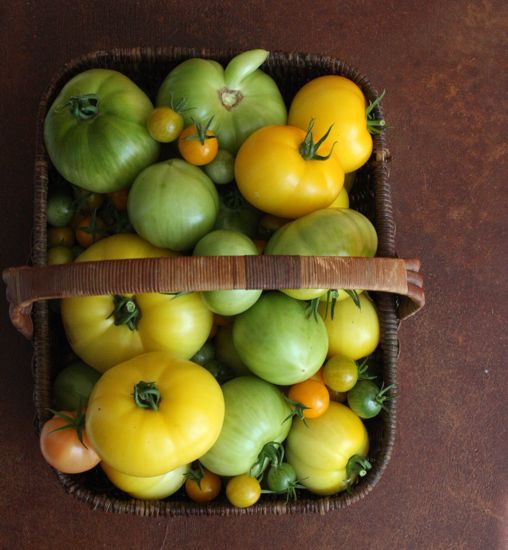 Or rather, they are now. That is, I didn't nurture these beauties. But my neighbors moved out and I rescued their tomatoes before the landscapers came through to 'tidy up'. Isn't it sad that productive vegetables aren't considered a selling point in real estate?
It's harvest time in these parts. My tomatoes aren't producing quite like these were, but I'm bring in a handful every couple of days. There are pumpkins on the vine and it looks like I might get a handful of green beans after all. (My garden is punishing me for going on vacation this summer, I think).
And if it's harvest time, that means it's preserving time. I've got pears from our tree that I'm turning into Ginger+Pear Preserves and probably some Apple+Pear Sauce (with the rest of the apples off our apple tree. I've already got apples in the freezer ready for pies.) And since other, more professional farmer-types can be relied on for other crops, I've also got peppers in the dehydrator, spinach in the freezer and roasted red peppers, plum sauce, grape juice and grape+plum cobbler filling lined up for the canner. I probably should make a batch of strawberry jam, just to open up some room in the freezer...
When the piles of produce in the kitchen have been tamed, it'll be time to catch up (again!) on all the BOMs and on Sew.Quilt.Give. Oh, and that tunic of Caitlyn's I was going to do during the spring version KCWC. She's been so patient!