Caitlyn has been looking forward to the next Sock Hop event at her school since before last Halloween. That might be my fault, since I was trying to help her decide on a Halloween costume and suggested a 50's style skirt that she could wear for Halloween and for the Sock Hop.
Somehow I ended up making a
pioneer girl outfit
for Halloween and promising a poodle skirt in time for the Sock Hop. What's wrong with me???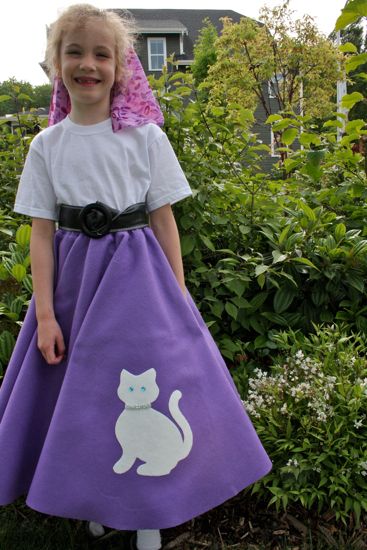 Fortunately, it's an easy skirt. And with felt, there's no finishing: no hem, no fancy seam finishes. I used
McCall's 6101
, including the cat template, with no alterations. I probably could have redrafted the waist so there's a bit less felt all bunched up, but really, I couldn't be bothered. And this way, there's the hope that the skirt will fit for at least the next 4 or 5 Sock Hops.
(And now I have a circle skirt pattern! I bet you don't have to make them out of felt, either. Although I might want any version I make for regular wear to have a non-elastic waistband...)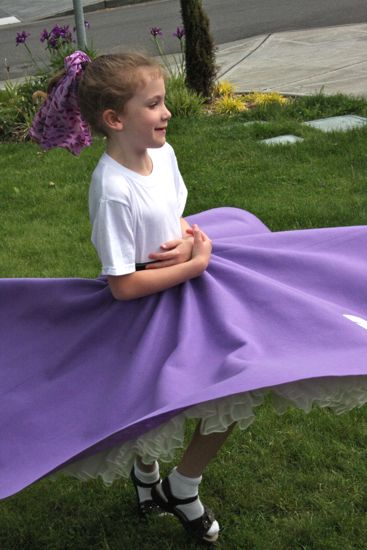 The purple felt is an eco product, made from recycled plastics, which amazingly didn't melt under the iron. The embellishments all came out of the stash. The t-shirt is a project that hasn't happened yet - because I've not gotten around to it, we have a plain white t-shirt to go with the skirt. The belt we found at Goodwill on Monday, a rather amazing find since it's infinitely adjustable. The petticoat underneath is mine from a million years ago and has been part of the dress-up box for years. I made the scarf for Caitlyn's hair on a whim, picking up a remnant of coordinating sheer stuff when I got the felt.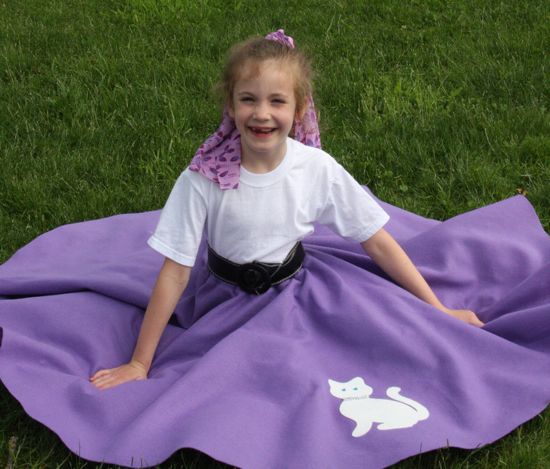 I had a felt circle skirt when I was a kid. It was teal blue and printed with some design (possibly floral?) all around the perimeter. I loved the rhinestones on it something fierce. I loved to spin it out and drop down so that the skirt was spread evenly all around me. Was it just cool? Was I imagining I was the center of a blue flower? Did I like the perimeter the skirt set around me, thinking I was interesting but unapproachable?
It's actually probably a good thing that I more or less completely failed to compulsively document my life as a pre-teen. I don't think anyone - including me - really needs to know now what I thought then, about anything.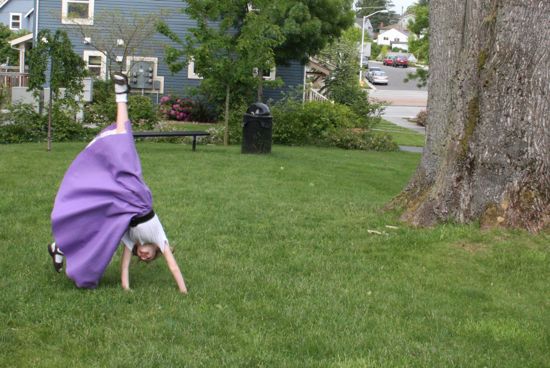 Caitlyn was happy to spin for photos. And she cartwheeled, too! This is the best photo I got, on her first cartwheel, although it wasn't until the third attempt that she figured out how to move with the skirt and land on her feet.