I've stolen some time that I should have spent doing other things to work on another quilt project. This is the other quilt we have that Ian's mom made: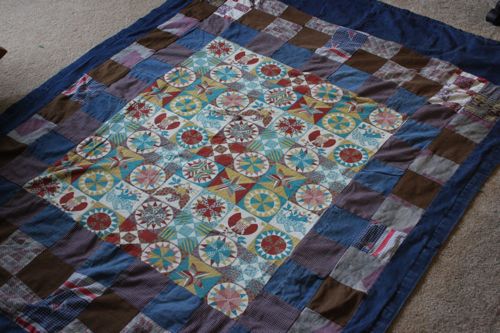 The center panel is printed to look quilted, and it's torn. The edges are pieced from old jeans and some shirts, I think. But it's definitely related to the
other one I repaired recently
.
Figuring out what to do with the center panel has been a challenge. I didn't want to take it out since nothing about this quilt is truly square; removing the center would structurally damage the whole. But there's no way I can patch the torn portion and have it look consistent. For a while I thought about doing some sort of
Civil War sampler
thing, but that seemed overly complicated.
The original quilt was made for functionality first and made from old clothes. To remain true to that, I settled on a simple, classic 9-patch pattern and fabrics already in my stash.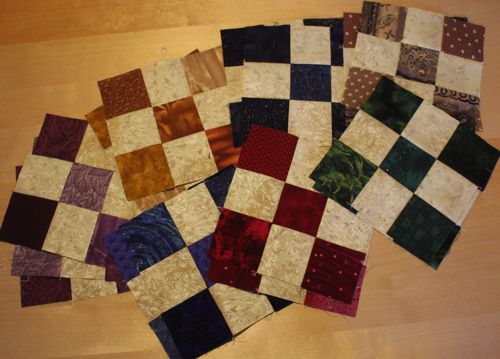 I think I may have done a 9-patch something a billion years ago. I've not been particularly drawn to them, either because they look so simple or because they don't look like stars. These turned out to be surprisingly fun to put together. If I were making a large quilt out of them or making super-tiny blocks, strip piecing would have made them even easier. Perhaps a scrappy 9-patch quilt might be a good way to use up some of the fabric stash…
By the end of last weekend, I had this: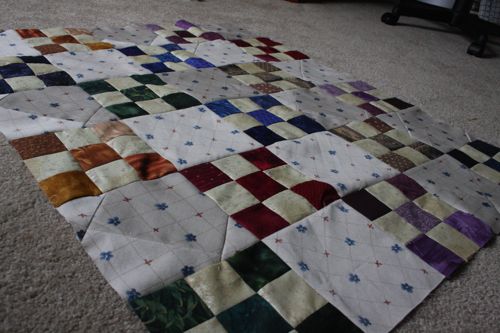 Next up: attaching it to the original quilt.