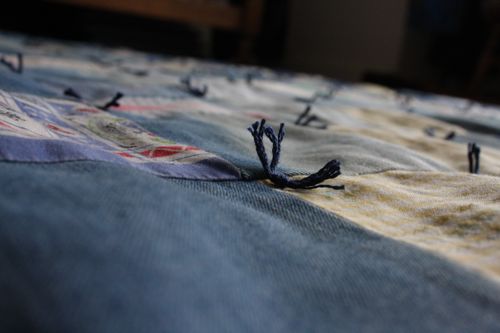 Sometimes the worn things can be patched up and brought back to life. This quilt was made by Ian's mom, out of old clothes, jeans and shirts circa 1970. But by the time I met it, it's backing had torn and it had been boxed up as something laced with memories but too much on it's last leg to stand regular use.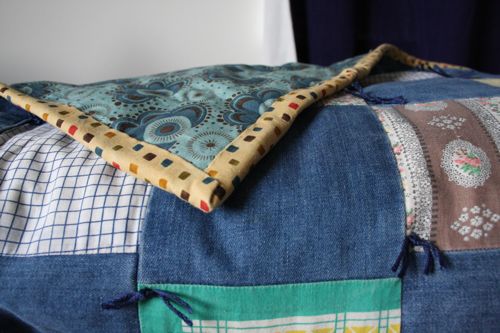 When I took it to the fabric store to find coordinating fabric to be the new backing (a challenge given the nearly forty years of shifting definitions of "fashionable"), it still smelled like the cedar chest. I felt like I should be explaining to everyone what I was doing, apologizing for the haze of cedar scent, but realistically, probably no one noticed. New backing fabric, new binding, new batting in the middle. It's heavy, and warmer now than it used to be.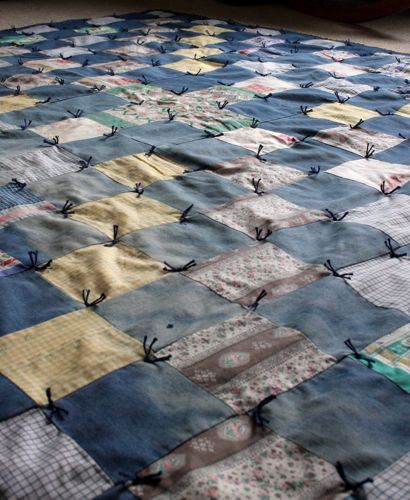 This is the first quilt I tied. Usually I wrestle them through my sewing machine (I may drool over a long arm but we don't have the space for one, never mind the $15K it probably takes to buy one), but all the denim in this one had me convinced I would break multiple needles if I tried the usual technique. I'm pretty sure I won't switch over to tying all my quilts, but it's a good skill to have and much easier than I thought it would be, even if my fingers did need a week to recover. And it works with the rustic nature of this quilt.
It spent last night on our bed, under the cat. It's nice to have it back in circulation.