Tomorrow is Monday, and the vacation is officially over. And, in the department of minor miracles, I might actually be mostly ready. The after-school muffins are made, the mail is processed, the email box sorted.
Caitlyn and I harvested the remaining carrots that were still in the garden. Their tops were nasty, but the carrots are in surprisingly good shape, even after the freezing weather of last month. Caitlyn was able/willing to get into the harvesting this time, as well, since the soil just brushed off,
unlike last time
. I may leave them in the garden longer next winter - it's easier to store them there than in the fridge. All that's left in the garden now is kale. Pantry is still full, though.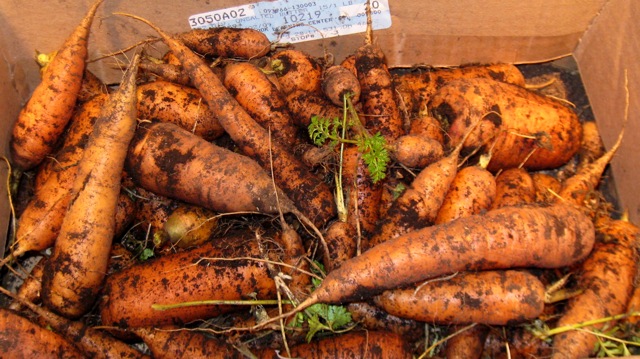 And, as evidenced by the above, we have set up a way that makes it much easier for me to take pictures and get them to the blog without 15 extra steps. So, here is a completely gratuitous picture of today's batch of muffins (carrot, in case you were wondering):