Reality Intervened, after I had promised Caitlyn project time after school today, and she was all set for some no-sew fabric crafting. Instead, we made dinner. I'd been reading about Solar Oven Chef's
frittata
and Hip Chick's kale
tortilla
, so:
She chose the potatoes from the pantry, then scrubbed them clean. I peeled and chopped. She put the water in the pot and carried the full pot to the stove, were we turned on the burner together. She watched the pot to be sure it didn't boil over. I sautéd onions. She added the broccoli. I drained the potatoes, and stirred everything together. I broke the eggs, she beat them. I put dinner in the oven.
The result: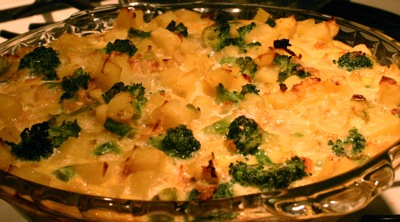 The best part: Caitlyn ate it. She liked it. She called it delicious, and thanked herself for dinner.
Lessons for Mama: get her more involved. And find a better space to take after sunset food pictures in the kitchen. The light over the stove looks bright, but man, dinner looked lots better than the photo turned out!