I think I'm going to stop trying to grow any tomatoes that aren't a cherry variety. For the last few years, I've put in a couple cherry tomato plants and a couple of others. I get little tomatoes, Sungolds and Sweet Millions, not loads, but some, but very few of the big tomatoes. My neighbors last year got lots of
big tomatoes
, so it's probably more my fault as a tomato grower than the fault of the tomatoes or our summers. But perhaps it's time to acknowledge and run with what I appear to be good at.
Because I can still buy boxes of tomatoes from our farmers' market. Since we still have leftovers from last year's canning, I only got 60 pounds this year.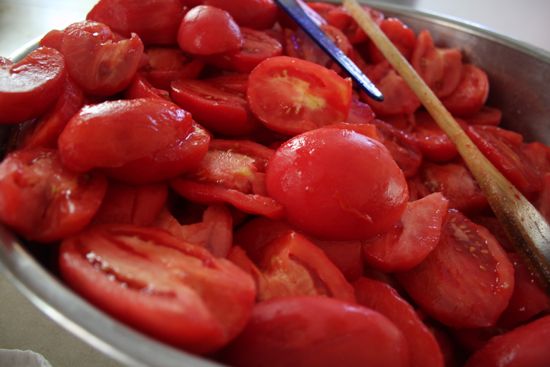 It takes all day and I'm a bit batty by the end of it, but I can process all 60 lbs in one go. I would have gotten an even 24 quarts out of it except two jars didn't seal. But when you add the 22 jars that did seal to the 15 we had left from last year, you're putting 37 quarts of tomatoes in the pantry and that feels pretty good. (I've made a note on my pantry inventory list so that I can note when we use up those leftover 15 quarts, which will help determine if 60 lbs of tomatoes is the way to go next year or if I should continue scaling back.)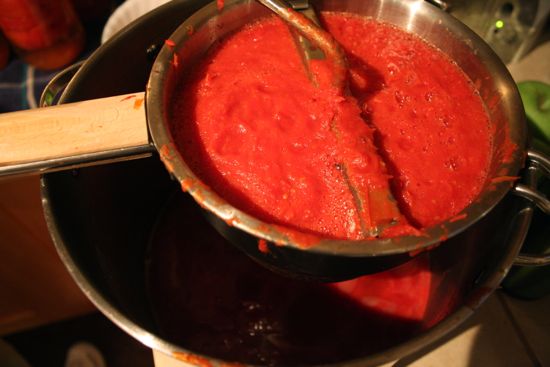 The big change in the tomato routine this year was to recapture sauce from what would have previously gone straight to the compost. I got this from
Northwest Edible Life
last year: take all the skins and cores that would have gone to the compost pile, put them in a pot, cook them down, run it through the blender, then run that through the food mill. The result: 9 pints of pure tomato sauce.
From something I was going to send to the compost.
I had no idea.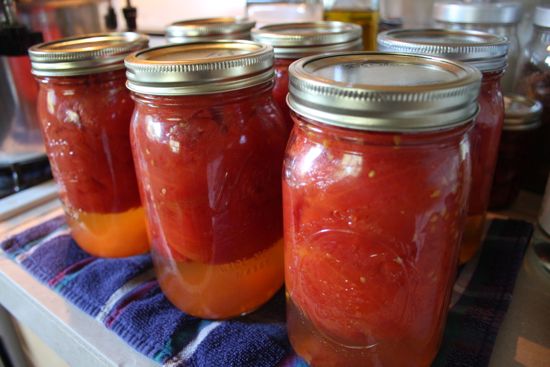 It's a lot of work, hot and sticky and hell on the hands (burned knuckles from packing tomatoes into hot jars, the occasional knife knick, the sting of lemon and tomato juices), and I'm almost always a basketcase when I'm done, but I'm not ready to let go of my home-canned tomatoes. Local organic tomatoes packed into reusable glass. We eat too much pasta sauce around here to give this up.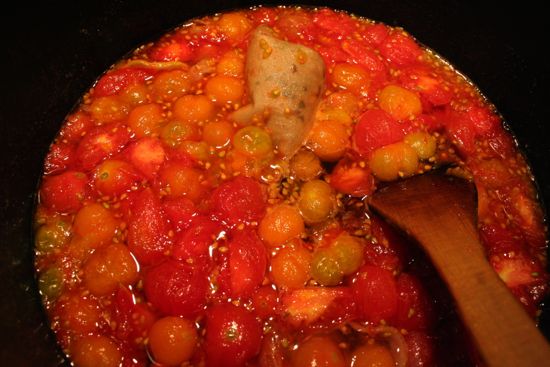 (Oh, I also made a couple batches of tomato preserves. See previous post on
preserves
. You'll be coming for grilled cheese sandwiches, right?)