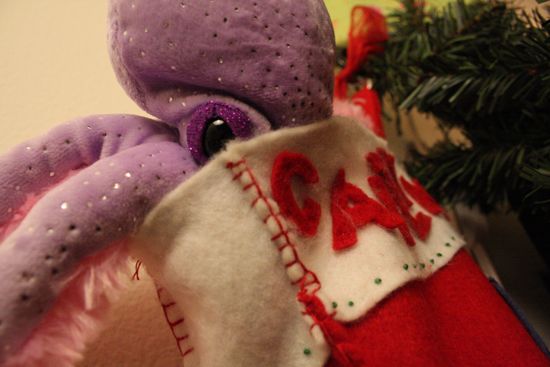 We started the day with stockings. Stockings, in my world, must be opened before breakfast, with everyone in their jammies. It's a warm and cozy tradition, with the smell of Christmas coffeecake wafting from the kitchen.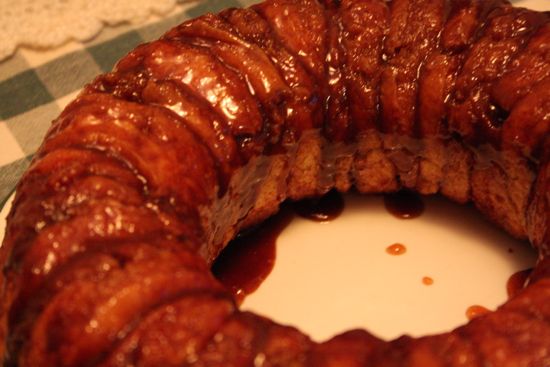 This coffeecake equals Christmas. I only make it once a year. I can't have Christmas without it. Buttery brioche pieces dunked in more butter and rolled in cinnamon and sugar and baked in a ring over caramel sauce.
Mmmmm...
And this is where we deviated from tradition. It's a mostly vegetarian house; while Caitlyn and I might eat some meat on occasion, apart from a bit of chicken breast every so often, I don't cook meat. In past years, this has meant that when I've cooked for Christmas, I've prepared the traditional dishes minus The Bird. Christmas becomes The Cavalcade of Starches: potatoes, stuffing, yams, bread, pie. Rather than do that again (and just after Thanksgiving), I built us a menu that was completely unlike previous Christmases, based on things we like and complicated enough to be special.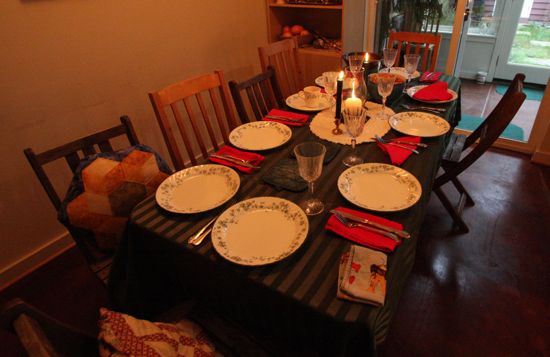 (The other advantage to our Christmas menu: almost all of it could be made ahead. I spent the two days before Christmas in a constant state of cooking. As a result, I was able to spend much of Christmas day actually
enjoying
and being fully present in the day.)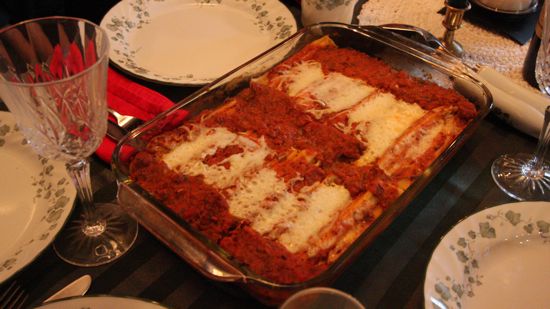 I made manicotti for our main dish. I never quite found a recipe I liked, so I basically made this one up. The filling was ricotta, provolone and spinach, and the sauce was a pureed variation on my usual.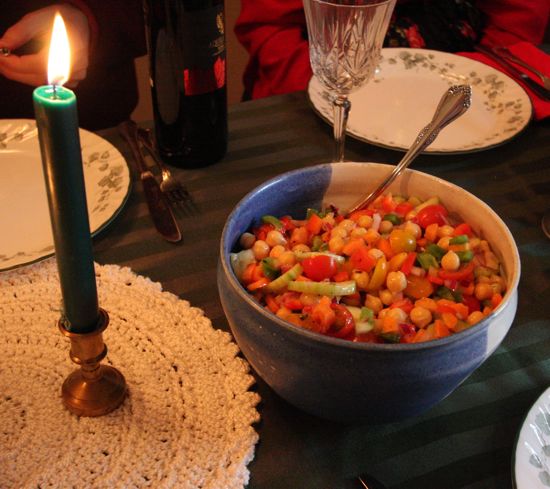 There were marinated veggies for a salad. This was a hybrid recipe from a number of sources, most of which provided the inspiration for the veggie list. Too many of the recipes I found didn't include a list of ingredients for the dressing, opting instead for a commercially bottled something.
There was also garlic bread, of course.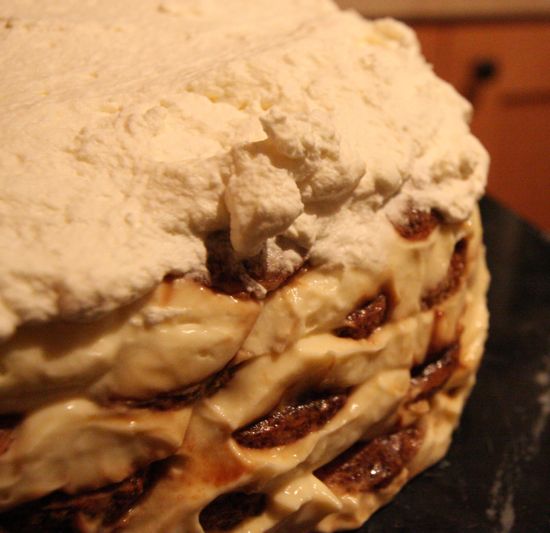 We finished our meal with a tiramisu. I used
this recipe
, because it uses an actual custard and not whipped cream or egg whites to make the cream filling. And because this is me that we're talking about, I made the ladyfingers and the mascarpone rather than buying them. I substituted Kahlua for the rum in the syrup. And I topped it spontaneously with whipped cream to give it a more finished look than the exposed ladyfingers. Big thanks to
Empire Espresso
for not blinking when I asked for 12 ounces of espresso! (And big thanks to my mom for carrying it home without sloshing!) The tiramisu was the one thing on the menu I was feeling at all nervous about, but it came out beautifully and met some really excellent reviews.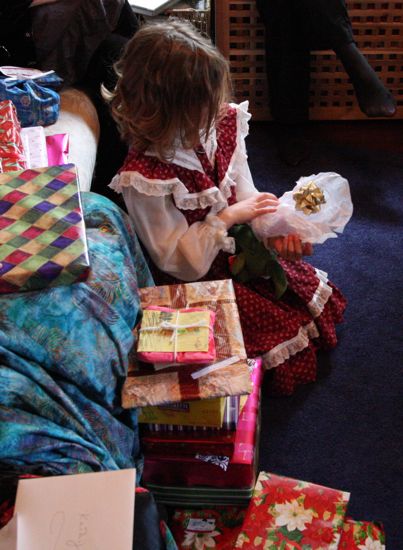 There were presents, of course, mostly for Caitlyn. She needed prompting to read the from labels, but she remembered her thank yous. We open presents one at a time so that everyone gets to admire each person's gifts; this method is hard on kids - I remember disliking it when I was small and wanted to just tear into everything - but I think it's a way to mitigate the materialist aspects of Christmas and allow homemade gifts to get a moment on the family stage. Caitlyn waited for her turns with calm and grace.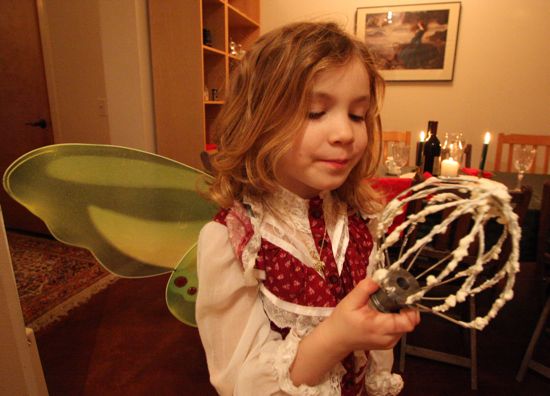 And she wore her new wings immediately.