I always seem to forget how pleasant mornings can be. Clear sky, the sun creeping slowly down the south side of the house and around the garage. Birdsong and crow conversations. The occasional neighbor, with and without dog. The train dinging it's way down MLK.
It's peaceful in a way that the afternoons are not. I generally like all the kids running through our neighborhood, and I'm grateful to live in a place where they can get out and play. But sometimes it's nice to have the quiet. Hopefully, Caitlyn will forgive me for not having enough gardening tasks for her in the mornings; she retreats inside, "to warm up my hands," and I rejoice in being able to plant and harvest without chaos and questions, without having to keep one eye out for the thoughtless enthusiasm that results in smashed plants.
The pea trellises came out of storage this morning, as did the row cover. I'm really excited about the new row cover supports. I've been looking for something better suited to the task than the grading stakes and string I used last year, but I wanted something that wasn't going to be three feet tall or be permanently attached to a garden bed. I just don't have the space for the industrial strength options I kept finding.
Gardeners.com
finally had something suited for small, multiuse spaces.
And with all the hardware came the seeds. We planted the leftovers of last year's Oregon Trail shelling peas in Caitlyn's garden bed before she went inside. There are Green Arrow shelling peas planted along the pea trellises and a row of non-climbing Cascadia snap peas behind one trellis. I put three rows of Bloomsdale spinach and a row of mesclun mix under the row cover.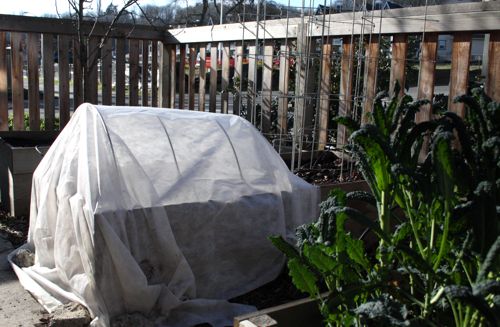 With luck, we'll have salad greens in about a month. Until then, we have kale, which is putting on a growth spurt in all this early warmth and sunshine we've getting. It needs to be eaten in less than a month, as it's in the space the potatoes will need in March.