Do people even wear shawls these days? Like, in public? My mom had (still has?) a white shawl which I remember she sometimes wore to church on Easter Sunday. But despite the many shawls I can find on Ravelry (I'm on Ravelry, but it's pretty pointless following me since I don't queue or show off projects there) and in books, I can't think of a single time I've been out and about and have noticed someone wearing a shawl like it was no big thing. The kid I saw wearing his fuzzy team blanket on the way to watch a Seahawks game doesn't count.
I seem to like making shawls, though. They are big enough to be a satisfying project without getting as unwieldy as a blanket. You don't have to do any fitting. You barely have to think about gauge. And although I'm still trying to figure out how to wear them, especially when I leave the house, they seem like a good idea for me, given my tendency to wear blankets when I'm home. (Don't knock it: a fuzzy crocheted blanket wrapped around you toga-style is perhaps impractical for most things but oh-so-cosy for end of day couch time.)
This shawl started as a pair of socks. I picked up crocheting because it's a portable crafty project to work on in loose social situations or while waiting for Caitlyn somewhere; quilts don't travel well. Making socks seemed like a good, small project that would finish with something useful. I don't know if it was the pattern or me, but what I ended up with, after finishing one sock and starting the next, was a saggy, sloppy thing, with the weirdest bulge at the top of the foot. This was a sock you could wear over a tennis ball sized growth. I gave up and tore it all out.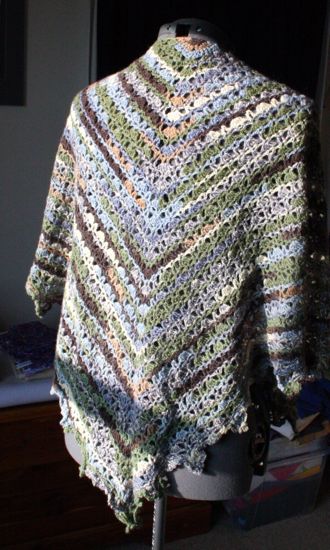 I found
this pattern
on Ravelry and used up almost all the sock yarn (just some JoAnn branded wool blend). The pattern probably wants a differnt yarn or maybe just a larger hook. My version is significantly less lacy than the pattern photo.
But! This shawl isn't so big that I can't wear it under a jacket. If I wear it "backwards" it works as an scarf accent (maybe?); when I get to where I'm going and the big jacket comes off, the scarf turns around and becomes more shawl like, keeping my shoulders warm in cool restaurants.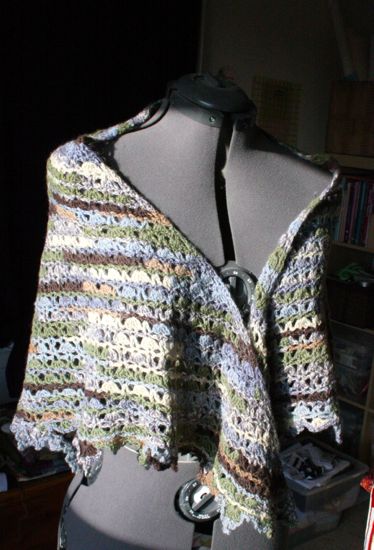 Now, this next shawl is much bigger and I haven't decided how best to wear it. The yarn came from a abandoned and reclaimed knitting project (I used to knit - who knew?). I'd started a sweater back in the mid '90s and either got the wrong yarn, used the wrong needles, or just didn't get the gauge right. After finishing the back and half a sleeve, and after using up more than half the yarn I'd bought, I was clear I was knitting something for someone maybe half my size. The project lived in a bag for years (and moved several times) until finally a friend ripped it all out for me.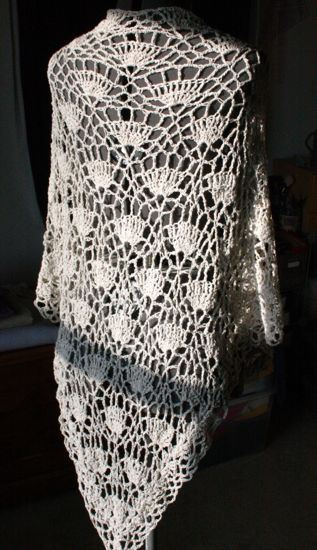 This is a much better use of the yarn. The pattern is
here
, and I think I did a much better job matching hook size and yarn weight this second time, too.
Now, if only I could figure out how or with what to wear this one...