I thought I'd kept my KCW list to something reasonable. A dress, a pair of shorts and some iron-on transfers on some t-shirts. Not a long list, especially when you compare it to other lists from other years. I totally should have finished last week.
Perhaps I should stop mentally signing myself up for things that have a fixed timeframe. I'm starting to think I'm just tempting fate when I announce that I'm going to do something within a set time line. Work gets busy with crises; I throw my neck out of alignment; the sun comes out and suddenly the back lawn is a foot tall.
I suppose I could have started my KCW projects early, but that would have felt like cheating.
So here I am, almost a week late, with my Kids Clothing Week finish: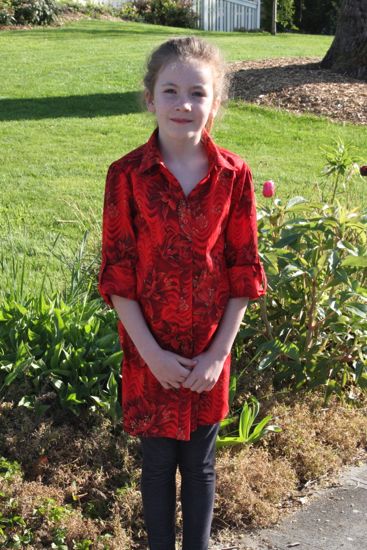 This is view C of
McCall's 6389
, with no changes or adjustments. First princess seams! (Hers and mine.) The fabric is a red cotton (acquired from someone's stash cast-offs) with large, gold-etched tropical flowers. I have no idea how long I've had it, but it's been filling up my bin of red/pink fabric for a while now. This project definitely counts as stashbusting!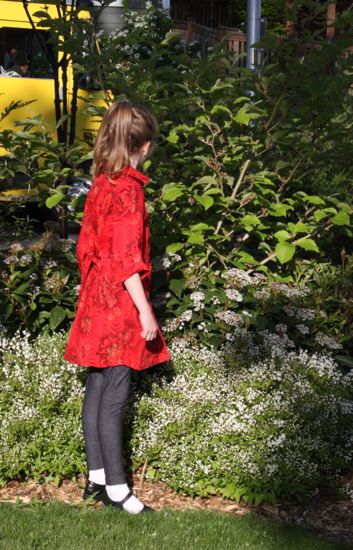 I'm particularly fond of the rolled sleeves. Caitlyn kept trying to roll them down this morning and learning that buttons on your elbow are awkward. The collar seemed temperamental when I put it in but maybe that's just because it's smaller than the collars on
Ian's shirts
.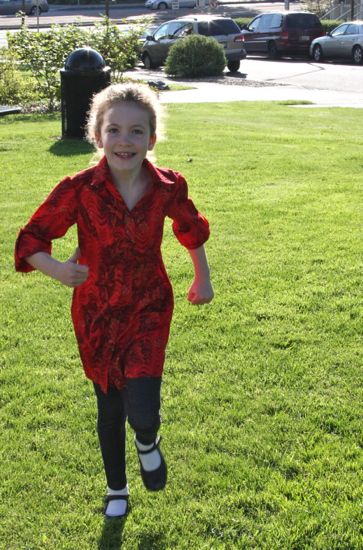 And it passes the Active Kid Test! Although I may suggest she not climb trees in it...
Here's my other KCW finish: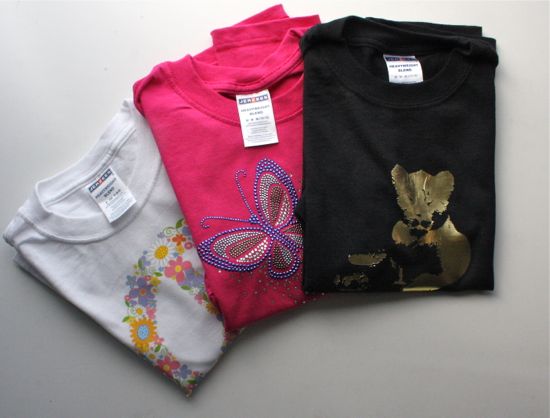 Calling these shirts "sewing" definitely feels like cheating. I bought some blank t-shirts from JoAnn (4 for $10), picked out some iron-on transfers and - ta-da! - shirts! Brainless, really. We'll have to see how they hold up to washing and wearing. If they are durable in any reasonable way, there may be more of this in the future. Then again, given the number of transfers that are emblazoned with "I'm the Princess, that's why!" themes, maybe not. Caitlyn loves the bright and shiny, but I refuse to stamp my kid with "I'm a girl and therefore I am all about shopping and getting presents!"
But that's another rant, that shall be ranted on another day.