It can rain now. The trick or treating is over, Caitlyn has an enormous haul of sugar (yay for our neighborhood and Columbia City businesses - no gum or jaw breakers this year and lots of Reese's, Milky Ways, and Whoppers!), and we had gorgeous weather despite previous forecasts that had us trying to adjust Caitlyn's expectations into
last year's costume
.
But while the clouds did move in this afternoon, the rain held off. And so Caitlyn wore the new costume.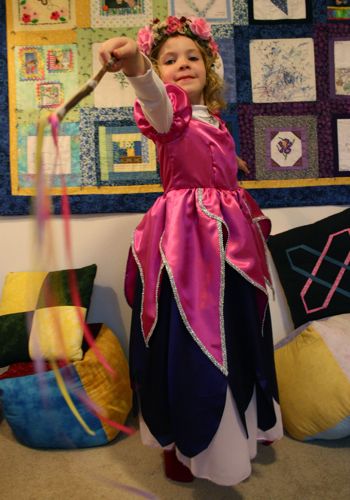 It's a little too big in the top, and the hemline will probably start marching toward her knees next week. Caitlyn loves it now, though, which is important since it'll be at least two years before I sign myself up to work with that much costume satin again. Blasted stuff is impossible to turn under for a hem or an elastic casing, it frays if you look at it sideways, and it melts when you iron it. Oh, and we can't wash this dress, since the satin has a tendency toward water spots (thus the tiger costume redux if it had been raining this evening).
But it didn't rain. Caitlyn was thrilled to wear the new dress and show it off to everyone, to gushing praise. And I'm going back to working with cotton, with gratitude and enthusiasm.
Happy Halloween, world!