It's time to finish off the kale. To that end, I harvested all that remained in the garden Tuesday afternoon, filling two plastic produce bags. Half of that was converted into Kale & Roasted Red Pepper Quiche on Wednesday: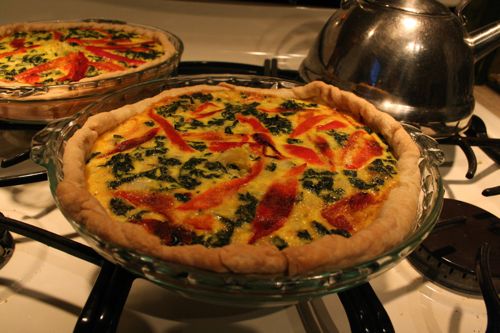 We're down to our last jar of roasted red peppers. And I can see part of the bottom of the freezer in the garage. There some carrots and broccoli, zucchini and pasta sause left out there, but mostly it's green beans and flour and berries.
But, it's the beginning of April, and our farmers' market starts back up at the end of the month. Of course, it'll be a few weeks before there's anything there but winter greens and Farmer Wade's Apple Juice (will it be cider or granitas on opening day?) but the asparagus won't be too much longer. Our asparagus, some of it anyway, is settling in.