Caitlyn danced on stage for the first time this weekend, performing with her pre-ballet class in
Spectrum Dance Theater
's holiday production of
Alice in Wonderland
. It was a dance-school showcase with 134 students, ages 5-20, a variety of dance styles (ballet, jazz, tap, contemporary), and plot that pulled from both the
new
and
classic Alice
movies and
the book
. Caitlyn's class danced the part of the Tea Cups after the tea party scene with the Mad Hatter (acted by a young man doing his darnedest to
channel Johnny Depp
), the March Hare and the Doormouse (who got to stand on the table at one point, which seems to one of Caitlyn's favorite details).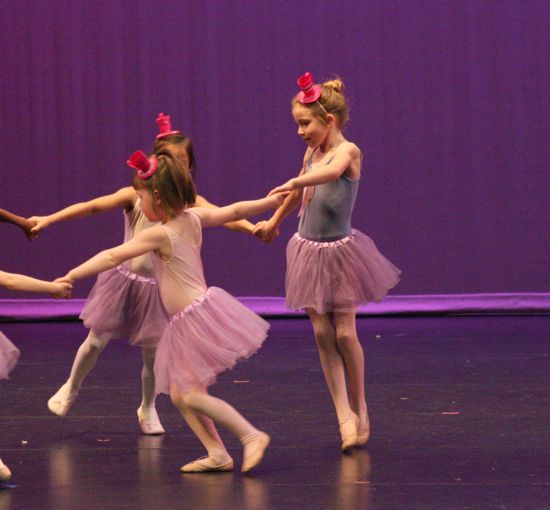 Yes, she's a head taller than everyone else in her class.
After their dance, the Tea Cups sang a modified version of "I'm a Little Tea Pot" ...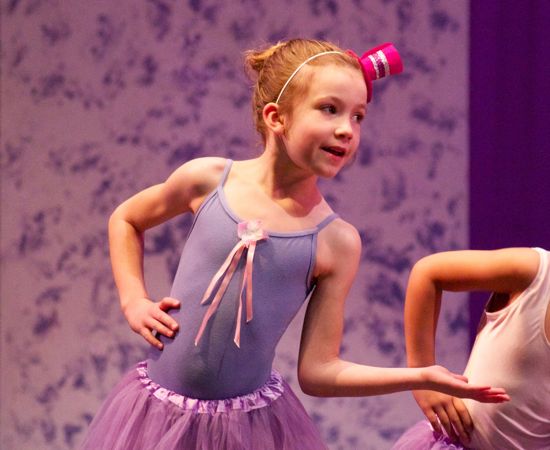 ... then ran off stage giggling. Impossibly cute.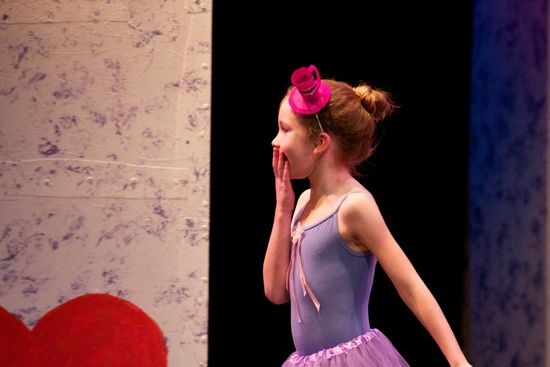 (Second two photos by Grandpa
Robert Gilman
.)
They did two performances on Saturday, after a long dress rehearsal on Friday night. Caitlyn did well on stage and says she had a great time, only complaining about how the elastic that kept the tea cup on her head pushed on her ears. She's discovered there will be another all-school performance in June and she's already excited about it, not only (I think) because
this
time she'll get to keep her costume. She's also attempting to recreate the dances of the other groups in the Alice performance, which means she now spends lots of time inventing new lyrics for
Stray Cat Strut
, not to mention a new tune and a new rhythm.
Her class danced to "
It's a Small World
." I am grateful for small blessings.