Hooray! It's Sew Grateful Week, the annual event launched by Debi of
My Happy Sewing Place
, and today is Giveaway Day.
I'm grateful that I have time to sew, even if I sometimes don't think I do. I'm grateful for all the people out there who post tutorials, patterns, reviews, and inspiration. I'm grateful for the people who taught me to sew (that's you, Mom!) and the people who enable me to keep at it (that's you, Ian!).
And I'm grateful for these giveaways. See, a couple decades ago my grandparents did some world travel. My grandfather took an enormous video recorder to Australia, back when such things rested on your shoulder and didn't live in your phone. No idea how he did that. Somewhere along the way, my grandmother bought some fabric, silk from Thailand, a gift for my mom. The colors didn't quite suit, and the fabric has lived in its gift box for years. Eventually the fabric came to me (the colors don't suit me, either). Because of Sew Grateful Week and the annual giveaway, I can be sure that this fabric will find quality new homes with people who will know what to do with it.
Which is so much more satisfying than taking it to Goodwill!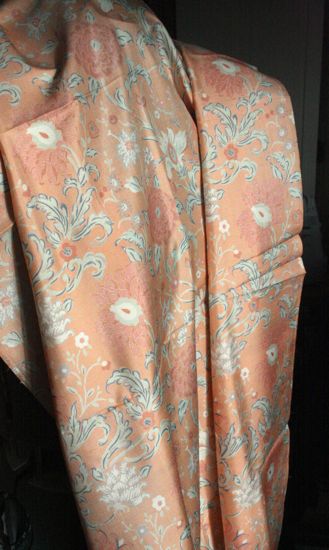 The first fabric is on the crisper side - I don't know a lot about silk as I tend to work more in cotton. It might pleat well? Anyway, it's heavier than what I think of when I think "silk" - definitely not drapey blouse material. It's a peach color with flowers, and there is about four yards of it.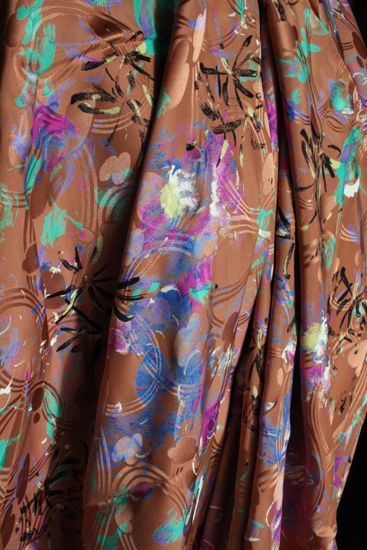 This one, on the other hand, is all kinds of drapey. It wants to hang in soft folds - no pleats here. It's darker than the other, more bronze than peach, with texture woven in and splashes of color. The black may be calligraphic characters or may be birds. The piece is roughly two yards.
As far as I know, both fabrics are silk, both are from Thailand, and both are circa late 1980s/early 1990s. And I'm giving them both away.
Which one speaks to you? What would you make with it? Not that it matters for the giveaway (I'm just curious), but have you sewn with silk before? I work primarily with cottons, both for quilts and clothing, so silk intimidates me.
Random.org will pick a winner on Monday, March 3. I'll ship international, so all are welcome.
Good luck!