StephC over at
SewingCake.com
is hosting a
sewalong
for her first pattern release, the
Tiramisu
dress. I'd like to say I'm participating, but I think I'm more officially lurking. Maybe it's different in Australia in early January, being all summery and so forth. Here, the second week of January is
full
already, since that's when all the things that have been ignored for the two weeks of Christmas/Winter break come due.
Or maybe I lack dedication and I'm looking for excuses.
Either way, I've been watching the
Flickr pool
and the assorted discussions for the sewalong, but I haven't uploaded anything or commented at all. So when I finally got some sewalong time last weekend, I was well and truly convinced that I needed to make a muslin first, at least for the bodice. And that I needed to take my time: new pattern from a new designer, new sizing system, knits (which I'm still feeling uncertain about), and a new serger.
Hey, did you catch that?
I've got a new serger!
Which is probably a whole separate post. But a quick thanks to
Kelly
and to
Skooks
for their serger thoughts back in October/November!
At the moment, I'm feeling cautiously optimistic about my Tiramisu bodice muslin. I'm using a plain green interlock knit (I think it's an interlock, it's got two "fronts") left over from
this shirt
. I've got a couple of seams to baste and then another fit check.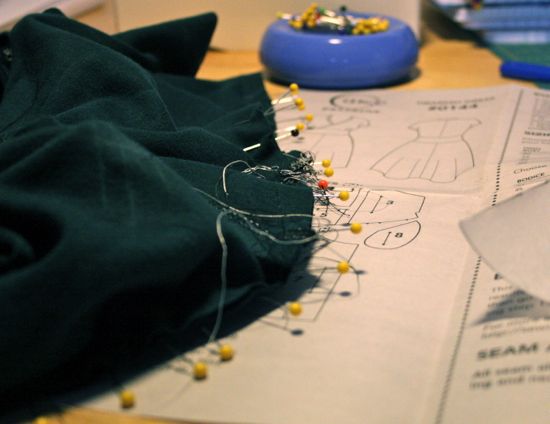 If my current theory is correct, I started out by using the wrong sized bodice front pattern piece. The pattern has 20 size options for the front bodice; you're supposed to use your "high bust" measurement and your "full bust" measurement to determine which to size is right for you. Silly of me to think the instruction to choose my second size variable (A, B, C, or D) based on my "cup size" was in any way related to knowledge I already had instead of the measurements conveniently provided in the handy table. After thinking that I needed to take a little off the bodice bottom and a bit more off the bodice sides, I thought to compare what I was intending to do with the next size down. It pretty well matched up. Now, I just need to baste up those seams and find out if I was right!
If I can get the green bodice to fit right, I may have to go in search of a fabric for the skirt. I got the green knit from JoAnn, so it's probably not too hard to find more of it. And then when I'm all done, I'll have two Tiramisus, the one in the burgundy fabric I bought specifically for it and a bonus one in left-over green and something else. And I will have actually made progress on my Wardrobe Improvement Project. Yay me!